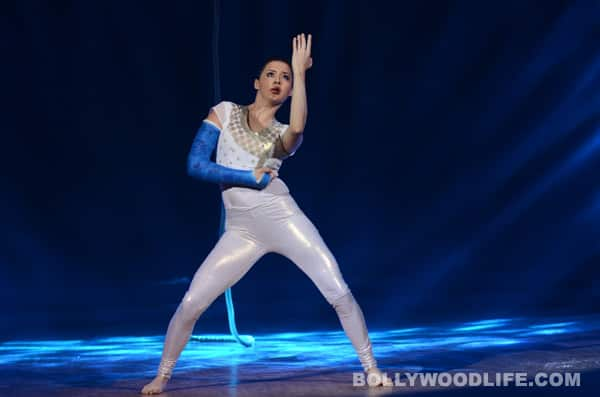 But wait, didn't we already know that Salman Yusuf Khan's injured partner is out? We did, right? Even so, the finale DID have it's surprising moments. Curious to know what they were? Here's what…
The finale of Jhalak Dikhhla Jaa 5 began with Gurmeet Choudhary, Ritwik Dhanjani, Rashmi Desai Sandhu and choreographer Salman Yusuf Khan – to fill in for the absence of his injured partner Isha Sharvani – opening the show with their dance.
Then came up the announcements about who will or will not make it to the grand finale. The first contestant to make it to the last round was Ritwik, second Gurmeet and third – hold your breath – was Isha Sharvani. Oops! But doesn't everybody already know that Isha has decided to quit the show? We do, no? So why this drama then, we couldn't help but wonder.
And as expected, after Injured Isha's name was called out, the lady came forward and declared that her doctor has advised her to stay away from the show. Sigh! Yeah, we totally understand you plight, babe, but we really couldn't help going 'yawn' at this stale twist.  Also, now it really looked like Rashmi had found a place in the grand finale thanks (only) to her kismet. Ouch! What could Desai dearest say, she decided to keep it short by sayin, " I would only like to show my act."
Hmmm, so there was actually nothing new about this episode, right? Not really. We were pleasantly surprised to see Karan Johar take up the proud-daddy avatar on seeing his bacchas – Alia Bhatt, Varun Dhawan and Sidharth Malhotra – from Student Of The Year  pop up at the show. Awwww! Also, while Sidharth wooed the girls by taking off his shirt to flaunt his six pack abs, Alia Bhatt entertained us with her anxious performance on Bahara bahara from I Hate Luv Storeys.
What's more, in the end the kismet-waali Rashmi Desai earned the most number of points  – 39 – to be precise, while Gurmeet and Ritwik stood at 37 points.
Does that mean Rashmi might win the Jhalak Dikhhla Jaa trophy this time around? Or will audience votes work in  favour of the effervescent Ritwik? Or will it be the expressive dancer, Gurmeet, who will emerge as a clear winner?
Tell us, readers – who do you think will win the fifth season of Jhalak Dikhhla Jaa?