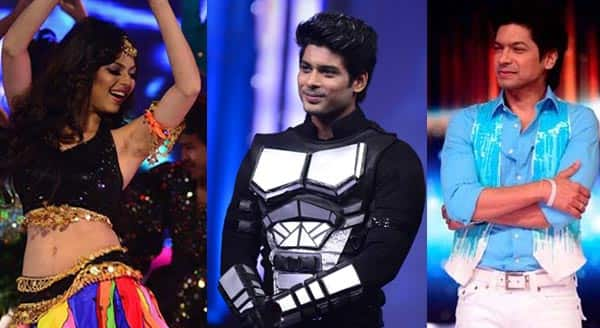 With each passing episode, the popular dance reality show is getting into deeper controversies. Earlier a few of the contestants were miffed 'coz they felt the three judges were biased towards Drashti and Shaan. However, the scenario seems to have changed now… The two created a scene and Siddharth took to drinking!
Popular small screen bahu Drashti Dhami and B-town singer Shaan have impressed Jhalak Dikhhla Jaa 6 judges Madhuri Dixit-Nene, Remo D'Souza and Karan Johar umpteen times with their performances. But in the coming episode, they will fail to sizzle on the Jhalak dance floor.
First up, Shaan will be seen performing a Mallakhamb act, which is one of the toughest gymnastic acts to dance to, especially if you haven't taken any formal training. Yet, the singer took up the challenge but slipped a few times while performing and that didn't go unnoticed. Shaan was disappointed when the judges pin-pointed his mistakes. However, what followed took many by surprise. The ever smiling singer broke down and said, "I don't want to do this anymore. I want to get back to singing." Looks like Shaan is feeling the heat of the competition.
Drashti couldn't take the criticism in her stride either. The Madhubala actor, who was said to be the judges' fave, lost her cool and started weeping after her 'romantic act' was scored low. Her rona-dhona session went on and on. In fact, the telly babe was so put off that she went to her makeup room and yelled at everyone to leave her alone. She even threw things around in a fit of rage!
Why are Shaan and Drashti behaving like this? We know they are used to getting good comments and scores, but so much melodrama over one bad performance? It seems both celebs don't wanna stay away from the limelight. So what if their act couldn't grab attention? A frowned look with a little crying session always works, no?
Then there is TV stud Siddharth Shukla, who seems least bothered with the competition. The Balika Vadhu actor did Pasodoble and used a boxing ring as a prop. But he performed poorly and the judges obviously weren't too happy. What's the reason behind his average performance? Apparently, Sidharth was out all week partying and practised his entire dance routine only for six hours. It seems the whole I-am-not-a-party-animal image isn't true after all, eh?
After the Jhalak episode was shot, we hear Sid vented out his anger for not scoring a perfect 30 by going on a drinking binge! But Mr Shukla, one should party hard only after having worked harder, right?