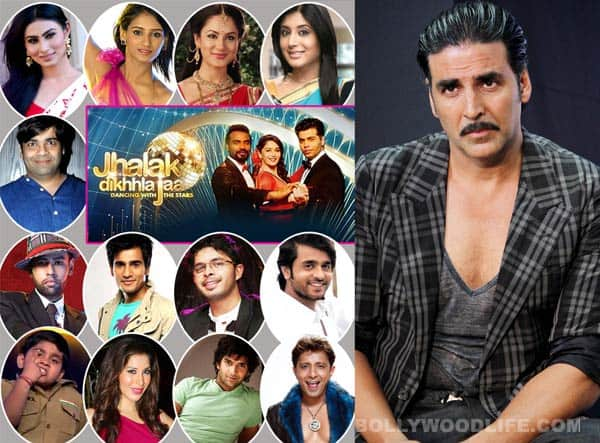 The contestants are set to dazzle us with their acts. But Akshay Kumar is in a naughty mood and wants to put the Jhalak contestants to a test. What exactly is the challenge? Read on to find out
They say curiosity kills a cat and we certainly don't want you dead. While we eagerly await the premiere episode of Jhalak Dikhhla Jaa season 7 set to hit the floors this Saturday, we have managed to get a sneak peak of the episode for you.
Akshay Kumar is back! In the promo video, the khiladi is seen wearing a black leather jacket and khaki trousers, looking dashing in every sense of the word. Although a gentle soul, Akki can be tough and we see him being just that. The Holiday star is seen challenging the contestants to climb up the stage with one swift movement.
While Sonakshi Sinha and Madhuri Dixit are seen having a hearty laugh and enjoying the show, there are two contestants who fail the challenge miserably and become the laughing stock. Who are they? We won't give it all away! Watch the video to know more…