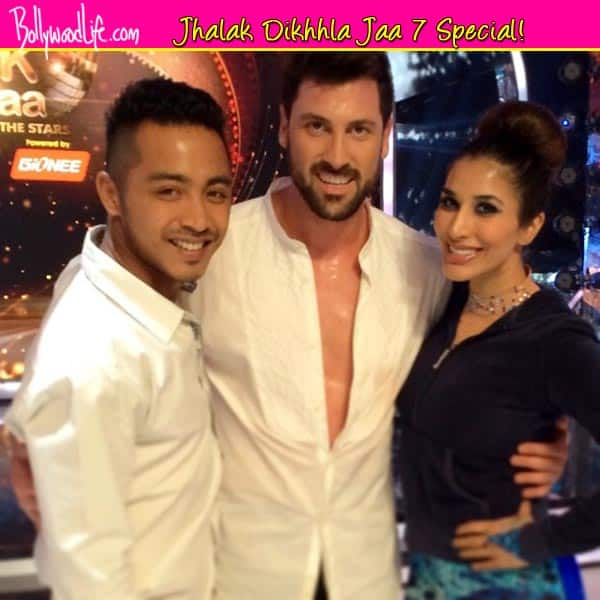 Where the hottie is mostly seen tweeting selfies with co-contestants and celebrity judges, Sophie took out time to tweet a special picture with Maksim Chmerkovskiy. Star-struck is she? Read on to know more…
Latin ballroom king Maksim Chmerkovskiy has surely swept many ladies off the floor literally and metaphorically. Seen as a guest judge on the current season of Jhalak, the hunk was first seen posing for a selfie with Dhak Dhak girl Maduri Dixit-Nene and this time is seen doing the same with former VJ Sophie Choudry.
Sophie Choudry posted a photo on Twitter with Maksim and choreographer Deepak. The tweet read;
"With our guest judge @MaksimC on the sets of #Jhalak .. #dance #music #dancingwiththestars instagram.com/p/pXvfuChwXB/"
A beaming Sophie certainly looks gorgeous in the picture alongside Maksim. While the show is star studded with judges like Madhuri Dixit-Nene, Remo D'souza and Karan Johar, looks like Sophie's personal favourite is Maksim and the beauty surely comes across as a lady in awe of this Ukrainian lad.
Will we see Sophie giving us a few sexy ballroom moves with Maksim soon? It wouldn't hurt to see that happen!