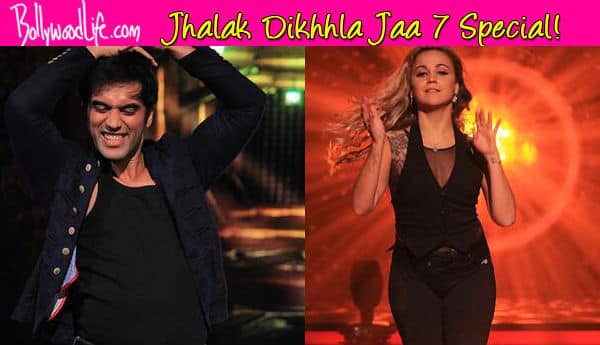 Next week the six wild card entries will prove their mettle in front of the judges who will decide which contestant stays and who will leave the show
It's the Wild card special on Jhalak Dikhhla Jaa 7 next week, where older contestants will challenge the six new entrants to a face off. Will it be RJ Malishka, singers Rahul Vaidya and Akriti Kakkar or Kainaat Arora, Kushal Punjabi or international dancer Tara-Jean Popowich?
Well we saw their entry last weekend and were not too impressed. Rahul Vaidya entered the show singing. Now we know that he is an amazing singer, but isn't this a dance competition?
RJ Malishka entered the show talking non-stop as usual. She requested Madhuri to teach her the Tamma tamma signature step, which she apparently, has been trying to master since childhood. Well we don't know about her dancing skills, but there doesn't seem much hope.
Being a Bollywood babe, surely Kainaat Arora must have some basic knowledge in dancing, but her entry on Jhalak didn't really give us any signs of it, nor did the singer Akriti Kakkar. While the Saturday saturday singer moved with grace, the Jhalak stage is a whole new ball game.
Telly actor Kushal Punjabi showed us his moves and with little help from a trained choreographer, we believe he can do wonders.
As for Tara-Jean Popowich, she was spectacular in her introduction itself. We could actually see the other contestants worrying about their future in the show.
If you ask us, Tara-Jean and Kushal have confirmed seats as the contestants of Jhalak, but who among the others will be the third wild card entry? Stay tuned to this space to find out!