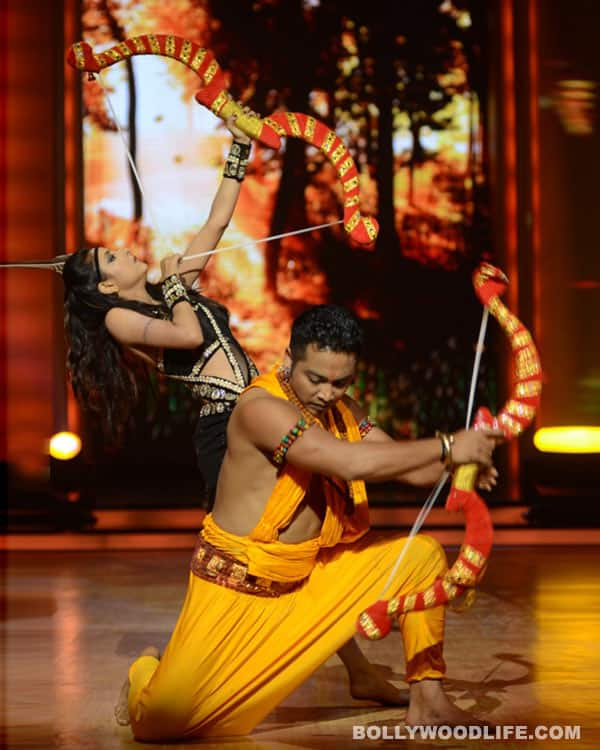 As Sanath Jayasuriya was eliminated from the show, the other celebs made sure they put their best feet forward and showcased the personality traits of the zodiac signs 
So while actor Gurmeet Choudhary chose to perform an energetic number on stage, Shibani Dandekar resorted to a soft and melodious song. Pulikali, or the lion dance showed off Gurmeet's ferocious side as Leo and won the hearts of the judges; this piece was exceptionally effective since the actor confessed that it was extremely difficult for a soft-hearted Piscean like him to leap around in such a forceful and violent way.
Shibani Dandekar managed to be featured in the good books of the judges with her evocative and emotive act. The girl had lost her cousin brother to illness just before she started her stint in the show and it was as if her performance acted as a catharsis for her pain. Impressed with the fact that Shibani's performance with her choreographer touched the imagination – much bigger than being technically correct dance-wise, the judges said – Madhuri gracefully lifted the score card and gave the couple a ten on ten for their emotional rendition.
Just when the judges were getting picky and the dancers were suffering pangs of anxiety, Darsheel Safary and his partner lightened up the situation with a cute act. Representing the adventurous Arien, Darsheel danced with an unmatchable amount of vigour and vivacity.
Isha Sharwani and her choreographer Salman made sure they portrayed the well-balanced nature of Libra with utmost creativity. Infusing a puppet act with plenty of aerial moves and graceful steps, the duo yet again managed to bring a grin of respect to everybody's faces.
Jayati Bhatia, who was on the verge of beng eliminated from the show, got to stay on by virtue of the votes she got from her fans. And that acted to her advantage, 'coz Ms Bhatia got an opportunity to show off her skilled Odissi moves, which also won her the most coveted 'this is it' praise from Remo.
Pratyusha is still not able to bring her energetic self to the fore, which is why every time she dances, the judges feel that there's something's missing in her performance. Although the verdict on the Bong babe's act was not satisfactory, the Dronacharya-Eklavya concept impressed Karan 'coz of the way it was directed on stage.
The show ended with Dixit's step of the week – the point of which still eludes us, event though it is always a treat to see the diva dance. Yet another episode of failures and victories – JDJ is trying hard to hold the attention of the viewers by coming up with innovative concepts. Let's see what they come up with next…!