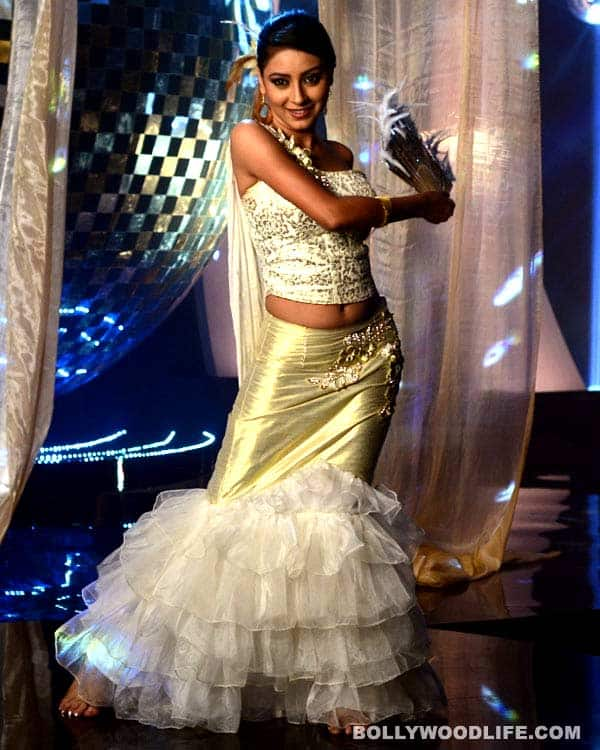 She thinks so but does she mean only fat people look cheap?
Pratyusha Banerjee earned her fame as the ideal daughter-in-law Anandi in Balika Vadhu. She's carried her on screen image off screen too by always smiling prettily at events and sporting the traditional ghaghra choli outfit. Now she's decided to break that image by participating in Jhalak Dikhhla Jaa 5.  Since she'll be dancing to western dance forms, she will wear skimpy skirts. Nothing wrong with that. "I think all bahus (daughters-in-law) should turn glamorous somewhere down the line so that she can prove that she's not only Biwi No.1, she can be the girl number one as well," Pratyusha told IANS in an interview. She is confident that her fans will accept her new look and we are too. What surprised us was another statement that she made in the same interview. "If they (the viewers) love me as Anandi, they will love me as Pratyusha as well. Besides, I am not wearing anything loud that I'll look vulgar. Thankfully, I'm too skinny to look vulgar in any kind of clothes," she said.
Uh oh. Does she mean that fat people look vulgar? She has two fellow contestants who fall under that category – Jayati Bhatia and Bharti Singh. Is Pratyusha taking a dig at them? Even if she isn't, Pratyusha should realise one thing – even thin ladies can look vulgar if they are dressed in the wrong clothes. She has to just look around. Our experienced B-town celebs thought the same thing and fell flat on their face at the IIFA Awards 2012. And it's not as if she has the style of a Deepika Padukone or Priyanka Chopra. Or even the figure of one. If you see the photo above – which is one of her latest ones – you'll notice that Pratyusha has a slight paunch, something her fellow contestants Archana Vijaya and Shibani Dandekar don't have. So whom is Pratyusha trying to fool?