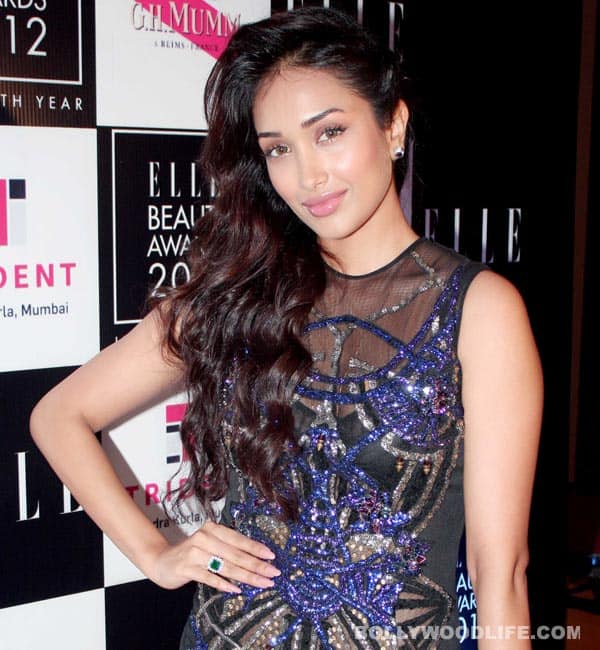 The Ghajini actor was found hanging from the ceiling fan at her Juhu residence on Monday night. Bollywood celebs took to Twitter to express their shock and dismay
Bollywood woke up to a very bad news this morning – Jiah Khan, all of 25, committed suicide at her Juhu residence on Monday at 11 pm. Jiah was found hanging at her flat in Sagar Sangeet building in the upscale Juhu area of Northwest Mumbai.
The cause of the suicide is not yet clear, police said, adding that post-mortem reports are awaited. Apparently Jiah's mother and sister had gone out and the actor was alone at the house when the incident occurred. No suicide note has been found. Police are questioning the domestic helps, security people and neighbours to find out what could have possibly led Jiah to take such a drastic step.
The actor, of British origin, came to Mumbai in 2006 to pursue a career in acting. She made her Bollywood debut in Ram Gopal Varma's Nishabd opposite Amitabh Bachchan. Later she was seen in Aamir Khan's Ghajini and Akshay Kumar's Housefull. Jiah's co-stars and the entire film fraternity is in a state of shock, and they expressed their sadness on Twitter right after Dia Mirza broke the news on the microblogging site.
Dia Mirza: RIP Nafisa(Jiah) Khan. You were too young and beautiful…I was too shocked to say more last night. This is NO WAY to go! Life is too precious. The worst phases pass. THEY DO. Never give up! #Jiah
Amitabh Bachachan: "WHAT …!!! Jiah Khan ??? what has happened ? is this correct ? unbelievable !!!(sic)."
Shahid Kapoor: "Shocked n saddened to hear about jiah khan … Very disturbing … RIP ….may her soul rest in peace (sic)."
Sonam Kapoor: "Nobody should be in so much pain and a state of such hopelessness. I hope her soul finds some respite in death. #ripjiahkhan"
Farah Khan: CAN'T register that jiah is no more..worked with her in Housefull n she was so beautiful n such a good soul.2 young 2 go jiah.
Ram Gopal Varma: Shocked and choked to hear about Jiah … So young and so pretty … Just cant believe that someone as young nd so full of life is just dead … Never ever seen a debutant actress with more spunk and more spirit than Jiah when i was directing her in Nishabd … No matter what her problem was I just so wish she applied her on screen philosophy of Nishabd to her own life which is to .'take lite' … The whole unit of Nishabd was literally in love with Jiah(sic)"
Bipasha Basu: Rip Jiah Khan!God bless her soul!(sic)"
Arshad Warsi: "Shocked to hear about Jiah Khan, she was too young to give up on life… RIP (sic)."
Riteish Deshmukh: "Nothing worse than waking up to bad news- shocked n dumb struck- RIP Jiah… Worked with Jiah in Housefull- she was full of life n had incredible sense of humour. She was a friend n will miss her. Am deeply saddened(sic)"
Manoj Bajpayee: "Its shocking to hear that a young one has commited suicide.may your soul rest in peace jiah khan!too young to go!(sic)"
Sonu Sood: "Shocked by jiah khans news. Had met her recently,was full of life..too early to go. RIP.(sic)"
Aditi Rao Hydari: "Very sad news about Jiah khan 🙁 makes me feel vulnerable :(… It's a strange world(sic),"
Vir Das: "It's just incredibly sad when anyone so young takes their own life. R.I.P Jiah Khan.(sic)"
Kunal Kohli:"What she must've gone thru to take such a step we'll never know. May her soul rest in peace. Jiah Khan."
Neha Dhupia: "Shocked and saddened by the news … Gone way too soon… RIP Jiah Khan(sic)," wrote Neha Dhupia on the micro-blogging site.
Kunal Kapoor: "So shocked and saddened by this terrible news!! May your soul find peace #Jiah khan (sic),"
Sandhya Mridul: "Oh god why … Rip Jiah .. May you find love & joy wherever you are ..(sic)"