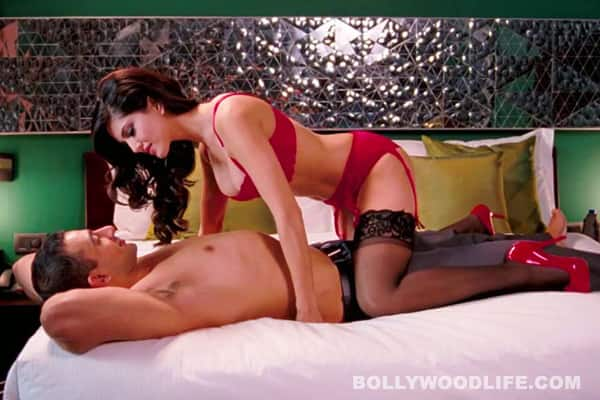 It's a male voyeurs delight. Ignore the hackneyed story and substandard acting!
Jism 2 is the story of Izna (Sunny Leone), a porn star who is hired by intelligence agency officers Ayaan (Arunoday Singh) and his boss (Arif Zakaria) to enter Kabir Wilson's (Randeep Hooda) life.  Incidentally, Kabir, a rogue cop, also happens to be Izna's ex-flame who walked out on her five years ago without a word. Izna agrees to help, but has her own agenda too. Ayaan and Izna pose as a couple and move into the house opposite Kabir's. They are in search for some crucial data that's stored in Kabir's laptop. The hunt for the information, Izna's dilemma over her first love and a few erotic sequences form the rest of the story.
The sex influenced film has a plot all right, but Mahesh Bhatt's clichéd story is filled with loopholes. The story just seems like an excuse for Sunny Leone's skin show. It's bizarre that an intelligence agency hires a porn star to extract information – wonder what happened to female special agents! Fine, she is hired because she shares a past with Kabir, but you wonder how they didn't do their homework prior to beginning the mission.
The plot shifts gears quite randomly to show that Arif is a drug abuser suffering from cancer and Ayaan is his adopted son, and it doesn't add to the development of the story in any way. The climax is another letdown and way too predictable. The dialogues seem forced and a li'l over the top. What's really good are the aesthetics of the location that come to the fore through Pooja Bhatt's direction. The lighting works wonderfully, creating the mood for this erotic thriller. Pooja Bhatt has definitely taken her direction a notch higher since Kajra Re (remember the Himesh Reshammiya film?). We wish she had worked a little harder on the script too.
The much-hyped debut of Sunny satisfies in terms of the skin show, but the same cannot be said about her acting. In most sequences, she is either heaving her bosom or taking her clothes off, which we are sure the male viewers will not complain about. Besides flaunting her assets and providing voyeuristic pleasure, Sunny doesn't add anything to the story. But then again, there's nothing much to the story anyway! No doubt the lady is hot, but frankly her bosom had more expressions than her face. Randeep Hooda is commendable and does a good job. If only he didn't have to say mind numbing dialogues, it would have been a lot better. Arunoday Singh is decent, but often goes over the top at times. Arif Zakaria is wasted.
The music of Jism 2 is soothing to the ear. Vicky Goswami, Arko Pravo Mukherjee and Mithoon Sharma have done a splendid job.
Jism 2 is all sex and no story, but it's not really a porn film either. The movie doesn't disappoint, if you've come to watch Sunny strip!
Rating: 2/5
* Poor – Avoid!
** Average – Give it a shot if you are desperate!
*** Good – One time watch!
**** Very good – Must watch!
***** Excellent – Don't miss!