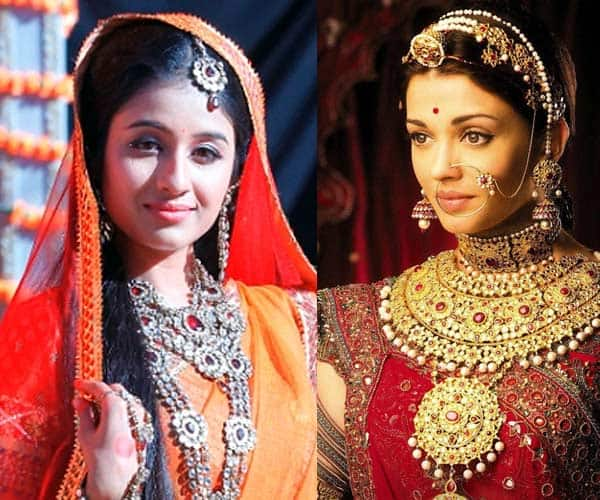 When two actors have enacted the same character on different platforms, comparisons are bound to happen. But we really can't pick one. So you tell us, who performed better as Jodha – Ms Sharma or the Bachchan bahu
Paridhi Sharma might have won millions of hearts with her portrayal of Queen Jodha in Zee TV's Jodha Akbar. However, we couldn't help but compare her to Aishwarya Rai Bachchan, who enacted the same character on the silver screen in Ashutosh Gowariker's Jodhaa Akbar much before Paridhi. So tell us BollywoodLifers, who according to you pulled off Princess Jodha's role in a better way?
Look: When it comes to looks, both Paridhi and the Aishwarya looked magical on-screen. So be it the make-up, ethic jewellery or those heavily embroidered saris, the two ladies surely looked prettier than ever, hai na? When these demure babes took the sword in their hands they made for a even prettier picture. While the former Miss World looked splendid as Hrithik Roshan's princess, Rajat Tokas' queen to has managed to woo her audiences with her innocent looks and desi avatar.
Performance: When Paridhi took up Jodha's role, she surely knew of comparisons to Ash. While we are inclined more towards Ash for not just playing the eternal beauty on 70mm she brought the much needed emotions to this character that made this loooooooong movie watchable. And we also commend the efforts that Paridhi has put in bringing the finer nuances of the princess' character to life.
Popularity: Ash's popularity internationally and her No 1 heroine status in Bollywood brought much weightage to Ashutosh Gowariker's period drama. Not to forget the light-eyed beauty's fans swore that B-town would never find a more exotic Jodha than her. On the other hand Paridhi's first major break through on small screen was Ekta Kapoor's mega project. While Ms Sharma debuted on TV way back in 2010, it is her portrayal of Rajukumari Jodha Bai that made her a household name. And her fan following can be measured on the social media.
So there you are. Tell us BollywoodLifers. Who makes for a prettier Jodha – Paridhi or Aishwarya? Vote!