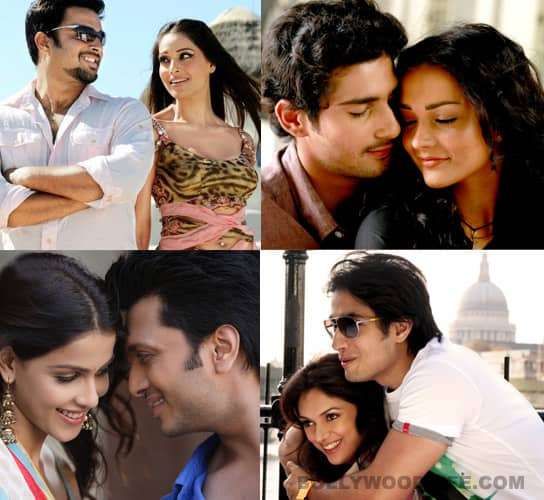 While some people lap up everything that is served with 'love', some prefer to go with instinct to make a choice. With a smorgasbord of romantic fare ready for release – a sweet romance, a quirky love story, an unconventional romantic plot and a real life couple's reel romance – we want to know which one you would prefer to watch. Vote to tell us!
Valentine's Day has come and gone, but the season never ends, especially not for filmmakers and fans of Bollywood. That's why, from now to early March there are four big romantic films releasing, each aiming to be the christened as the best romance of the year – the wave started with Karan Johar's Ek Main Aur Ekk Tu, starring Kareena Kapoor and Imran Khan. Whether or not any of these films make it to the most coveted position in B-town remains to be seen. But if you look at the trailers it seems that each plot is diametrically different from the other. While we think there is a certain uniqueness in each film, you decide which one you would like to spend your money on. And tell us…
Ekk Deewana Tha (17 Feb) – This romance is about a young aspiring filmmaker and an older college teacher from an orthodox background who is about to get married. Once again it is a new pair – Prateik as the cute lover who refuses to give up and Amy Jackson who is appealing, nicely covered up in salwar kameezes and saris – that should make it a pleasant watch. While this one seems like a sweet love story, we hear there is a twist in the tale.
Tere Naal Love Ho Gaya (24 Feb) – This comes across as city girl meets village boy and the mishaps that follow. We think there are two simple reasons why this love story has appeal. One: it stars the real life couple Riteish Deshmukh and Genelia D'Souza. This is their second film together. Two: both actors are known for their comic antics and for bringing alive their characters with enthusiasm. And if you watch the trailers, it seems as if the film has attempted to combine the vivacious appeal of Jab We Met and goofy sense of humour of Ajab Prem Ki Ghajab Kahani.
Jodi Breakers (24 Feb) – Quite contrary to the norms of romance, this one is about breaking up unhappy, disgruntled couples. To carry out the noble act there is the sensuous Bipasha Basu and her partner, her opposite, the podgy R Madhavan. We are certain that the South star's strengths in the film, like in real life, are his charming ways and not his physical shape. And it's the unusual pairing that is one of the biggest draws of the movie.
London, Paris, New York (2 March) – This one is about two people who meet in three different cities and at different times. Don't be surprised if it sounds similar to Kunal Kohli's Hum Tum, which seemed inspired from international films Before Sunrise and Before Sunset. But it is the film's zany sense of humour, foreign setting and the new pair of the amusing Ali Zafar and the adorable Aditi Rao that brings freshness to it.