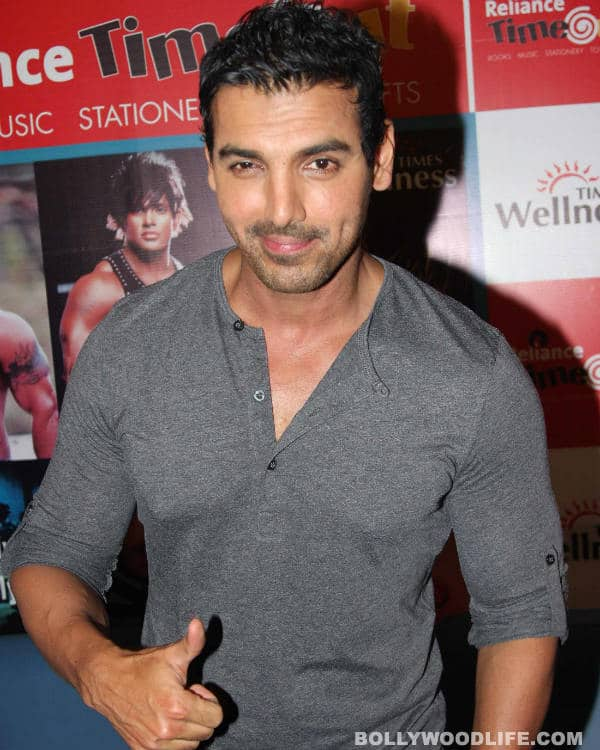 The role has to have an edge, says the Bollywood heartthrob, who made sexy look sexier in Jism and grey even greyer in New York. After a decade in movies, John believes his middle-class roots have helped him balance his personal and professional life
John Abraham, who turned producer with the super hit comedy Vicky Donor, doesn't want to stick to "funny" films. His next film could be a political thriller like Madras Cafe and a human story like Humara Bajaj." In a candid chat, the 40-year-old actor reveals his fascination for negative roles, his aspirations as a producer, his friends in the industry and why he chooses to stay away from the party circuit.
Negative roles:
From Jism to New York, Zinda to Dhoom and now Race 2 and Shootout at Wadala, all my roles had shades of grey… I think I like that space. I don't like being normal, romantic pyaara sa gaata rehta hai. The role has to have an edge. Someone saw me in Race 2 and said 'bad has never looked so good' and I think that is the plus point.
Personal and professional growth in 10 years:
I think maximum growth has been as an individual. I have matured, settled down mentally. As an actor the growth has been tremendous too. If you see Race 2 or I, Me Aur Main, my action hero concept was very strong. But someone saw I, Me Aur Main and said you have transformed from action Abraham to actor Abraham. I have mastered the art of understanding what my audience wants… I know how to add that extra edge to a character.
Pros and cons of celebrity status
The cons of being a celebrity is criticism and I use the cons positively to make myself more superior, better and stronger. So the cons actually work for me, making my pros stronger.
Filmdom and its vagaries:
Whichever industry you enter into, you go with the preconceived notions in your head. Similarly when you enter the film industry, you think it is only for film people… that it is ruthless and that if you are not good enough, you are out of it.  Well, all that is somewhere true, but I don't belong to the film industry and I am good enough and I am here. So you defy the rules.
Perks of middle-class upbringing:
It is very natural that a star doesn't always remain a star. Over the years, he or she gets older and carries on with his or her life. Look at a normal person, he also lives with the thought of getting old some day. So everybody's life goes up and comes down. If you keep your lifestyle like a flat line, keep your needs less and live a normal life, then the highs and the lows won't affect you because you are leading a normal life.
I have grown up in a middle-class family, my value systems are very regular. My lifestyle is very regular. So whether I am a star or not, my lifestyle still remains normal and it won't affect me. I train my mind to understand that I am like any other normal human being and I am no different from anybody else; that is it.
Friendship in Bollywood:
I have always been very disconnected with the film fraternity… The industry knows I really don't indulge myself in parties; so nobody feels bad about it. My only three friends in the industry are Karan Johar, Abhishek Bachchan and Akshay Kumar and all three of them I speak to once in a while and it's never about work.
Stint as a producer:
If Vicky Donor is a benchmark, I have to make films in that space, which are commercially entertaining. By that it doesn't always mean that it has to be funny, it could be a political thriller like Madras Cafe and human story like Humara Bajaj. It has to be J Entertainment Film', which is completely different.  I have a lot of confidence in my content, my directors, writers and stars I will create. Like Ayushmann Khurrana became a star, we'll create more stars.