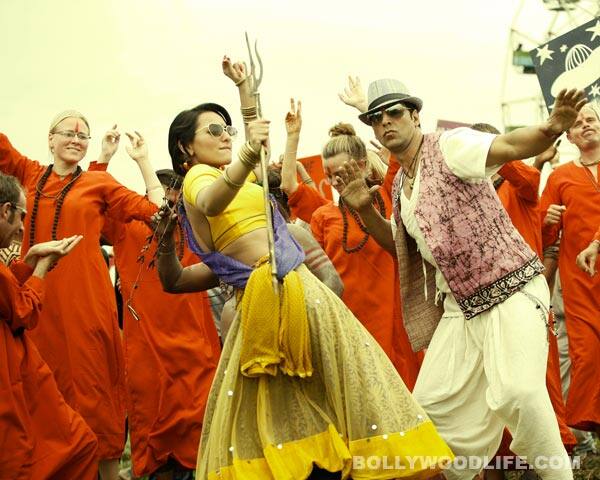 Shirish Kunder's madcap alien saga is so appalling that it can easily be called the joke of the year….and a bad one!
We are curious to know what was going on in Shirish Kunder's over-the-top filmi mind when he decided to make Joker. Perhaps he was directing a school play for a bunch of fifth graders for an annual function. And maybe Kunder was so impressed by his own indulgence that he decided to portray the same story on the big screen with Akshay Kumar, Sonakshi Sinha and Shreyas Talpade at the helm of the whole sadly sorry affair.
So you have an Indian American scientist called Agastya (Akshay Kumar), who is on visit to his native place of Paglapur with his girlfriend (Sonakshi Sinha). The village is filled with mad-mad people who can drive you nuts with their antics. And no matter how hard director Kunder tries to make them look funny, this bunch of buffoons comes across as outright repulsive.
Agastya discovers that Paglapur is so remote and so alienated from the real world that it is not even on the map. The place lacks basic facilities like drinking water and electricity. Agastya decides to improve things for the locals by creating a hoax of an alien invasion, just to attract the world's attention to Paglapur. Unfortunately, Agatsya's nemesis, an undercover American agent, discovers the true story and plays party-pooper. Will Paglapur's mad but clean-hearted people spearheaded by the determined Agastya succeed in keeping the show on? To find the answer to that one you have to bear the pain of watching the film.
As for the cast, Akshay is the only saving grace of the film and Sonakshi has complemented Akki well with her role, small though it is. Shreyas Talpade tries his best, but ends up hamming a lot. Minissha Lamba plays a reporter, but even the creepy-looking aliens get more screen time than the petite babe does. The music of the film is largely forgettable. Overall, the less we analyse the other facets of Joker, the better!
At 1 hour 50 minutes, Joker is fairly crisp. And one must thank Kunder profusely for keeping his mad drama short and tight. For that reason alone, he deserves a pat on the back.
Rating: 1.5/5
* Poor – Avoid!
** Average – Give it a shot if you are desperate!
*** Good – One time watch!
**** Very good – Must watch!
***** Excellent – Don't miss!