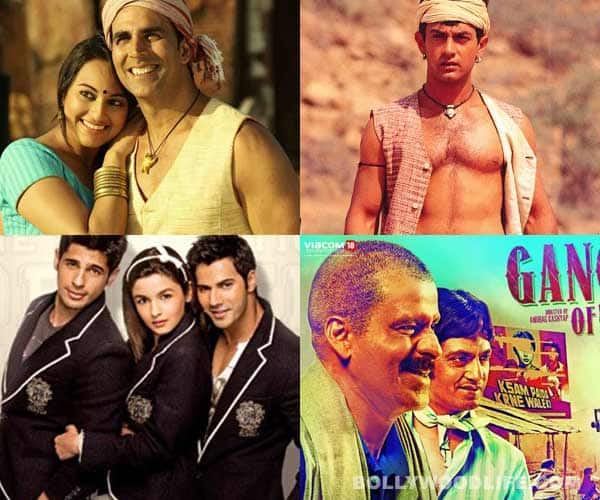 Cineswami wonders why the length of some Bollywood films matters more than the content
As Joker opens across the world amidst reports that Akshay Kumar is unhappy with Shirish Kunder (Mrs Farah Khan) not converting the film to 3D and not listening to his edit suggestions and thereby staying away from the film's promotions, one fact is emerging. No matter what the film's merits or demerits, people seem to be happy with the fact that Joker is just under two hours in length. There is also much excited speculation about the length of Karan Johar's Student Of The Year with the director saying: "This is going to be the shortest film of my career. Though I am yet to arrive at the final cut, it should be around 135-140 minutes at maximum." This, coming from a person whose earlier films clocked in around the three-hour mark, is quite a revelation.
The real question here is why is a film's duration being discussed rather than content? Time was when films would routinely have epic running times like Sholay or Mughal-E-Azam but the audience focus was on the enthralling content rather than how long the movies were. Even Aamir Khan got away with a nearly four-hour running time with Lagaan. The film's storyline and pacing was so exhilarating that nobody complained about the length. Audiences also sat through nearly six hours of back-to-back screenings of Anurag Kashyap's Gangs Of Wasseypur parts 1 and 2.
There was a brief period when films began getting shorter that some old-timers complained about them not being long enough, and they not getting their paisa vasool. And therein lies the rub. India today has an overwhelmingly young audience with increasingly short attention spans. Even when inside a cinema that they have paid good money to get into, the punters are easily distracted by that bane to film – mobile phones. People constantly answer calls, text, surf, etc, rather than being consumed by the story unfolding on screen. Perhaps the rapid decline in the quality of mainstream films is the answer to this distraction. There is a modern anthropologist's cinema wet dream thesis in there somewhere.
Returning to Joker, the big news is that it is releasing in India and Pakistan simultaneously. "We are really happy that Joker is releasing in India and Pakistan simultaneously. Joker is a universal film that we feel will be enjoyed by the entire family. It's a clean wholesome entertainer that has got U certificates in both countries. We are really excited," said producer Farah Khan. No reason for Farah's excitement really because Indian films routinely release simultaneously in Pakistan unless they feature ISI agents like Agent Vinod or Ek Tha Tiger. More newsworthy is that Punjabi film Ajj De Ranjhe is getting a simultaneous release in both countries next week. Apparently it is the first Punjabi film to be accorded this rare honour. But why? Pakistan is just another territory for Indian films to release. Do people wet themselves when films release simultaneously in India and say, Papua New Guinea?
Returning again to Joker, as Akshay Kumar can never be Shahrukh Khan or Aamir Khan, he is paraded in Aamir's costume from Lagaan and the story is basically a retread of Swades, except with aliens. Somewhere, Ashutosh Gowariker, tongue still smarting after licking his What's Your Rashee? and Khelein Hum Jee Jaan Sey wounds, must be smiling.