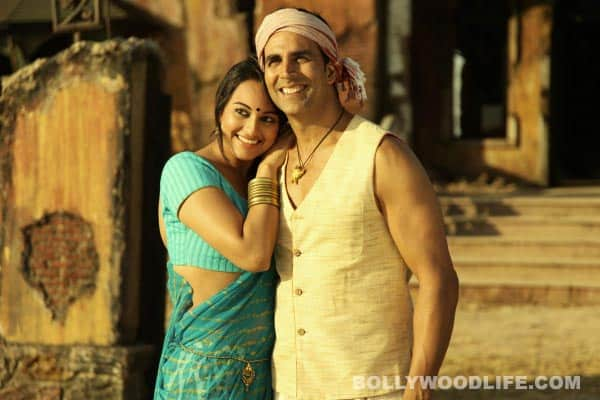 Watch the trailer of Shirish Kunder's sci-fi film, it reminded us vaguely of his previous disaster, Tees Maar Khan
After the huge success of Rowdy Rathore, Akshay Kumar and Sonakshi Sinha are back together in Shirish Kunder's sci-fi film that was originally announced to be in 3D but isn't any more. Joker doesn't really look like a film we are eagerly waiting to watch. If the trailer is anything to go by, it has all the elements of Kunder's previous production, the ill-fated Farah-Khan-directed Tees Maar Khan – screaming, shouting, yokels running amok, garish costumes, rolling fields, the works! This time around, he has thrown in some aliens that seem to have been created by some imaginative minds working with a very low budget.
Long ago, we told you about what Joker was all about. We are happy to inform you that our source was absolutely correct. Okay…almost correct – the name of the village is Paglaapur, not Paagalpur, as we reported back then. (Not that there is a huge difference, but we like being true to our readers, you see!) As we told you, Joker is about a scientist (Akshay Kumar) and his wife (Sonakshi Sinha), trying to bring focus the limelight on their village that is populated by a motley group of people who have escaped from an asylum.There is singing, dancing, plenty of manic rushing about and very little sense. Is that deliberate, we wonder, a way to stimulate our tastebuds and keep us waiting and wanting more?
To be fair to the makers of Joker, we will save our final verdict for when we have watch the film. For now, Mr Kunder, we seriously felt that you are joking…or is the joke on us? Watch the trailer and tell us!
ALSO READ: Sonakshi Sinha competes with Akshay Kumar!
Will Chitrangda Singh be the new item queen?