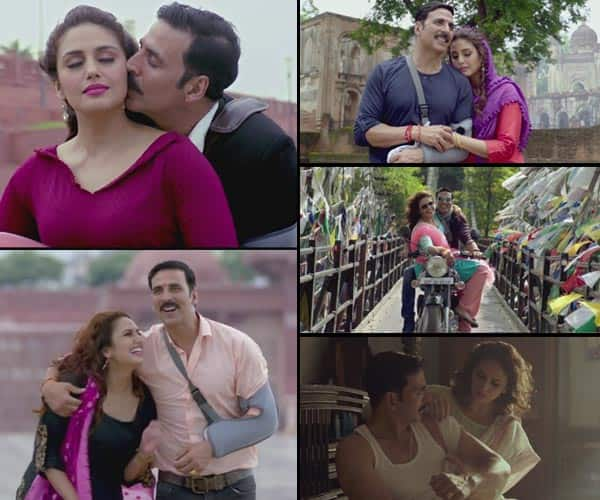 After watching Akshay Kumar 'Go Paagal', here's yet another song from Jolly LLB 2 – Bawra Mann featuring Akshay and Huma Qureshi. And we might as well add, it's such a soothing composition put together by Jubin Nautiyal & Neeti Mohan. While the promos of Jolly LLB 2 are already winning the internet considering it's a sequel to National Award winning film Jolly LLB which had Arshad Warsi in lead. We are sure this track is further going to make you long for the film to hit the screens at the earliest. Here, we give you a quick review of what's hot and what's not about this song that's just hit the web. Also read: Jolly LLB 2 song Go Pagal: Akshay Kumar gives us the zaniest song of the year
What's hot
What I loved the most about Bawra Mann is the fact it has such a loving vibe between Akshay and Huma. They look so damn good together and what better than translating their chemistry with a rhythm like this which only spells love. The music is as heart winning as the visuals. Especially the sequences where Akshay and Huma get flirty – the song exactly shows how Akshay, who plays a lawyer in the film, has a happy living with his happy family. But only if the ending wasn't this tragic…
What's not
When you get to see so much love on display, you obviously wouldn't expect a tragic end? Unfortunately, Bawra Mann takes you through this heart-breaking climax with Akshay getting shot in the middle of a street while Huma cries for help. How we wish this song was all happy and lovey-dovey. I mean, the music stays back with you but you would want to forget the end.
Verdict
All said and done, overall the song is more situational than a dreamy love sequence. It shows a day into the life of Akshay and Huma and has a really enticing vibe to it. Trust me, this is sure going to make it to your playlist, especially the one's who crave for slow romantic tracks.
Watch the song below:
Directed by Subhash Kapoor, Jolly LLB 2 is all set to hit the screens on February 10, 2017. While Huma Qureshi will be the leading lady this time, Annu Kapoor will play the lawyer who Akshay Kumar's Jolly will be taking on in the sequel. Not to mention, the very underrated Kumud Mishra too has a role in this movie, which only promises to give another honest satirical view of the corrupt practices in the administration and judicial practices. Your thoughts?