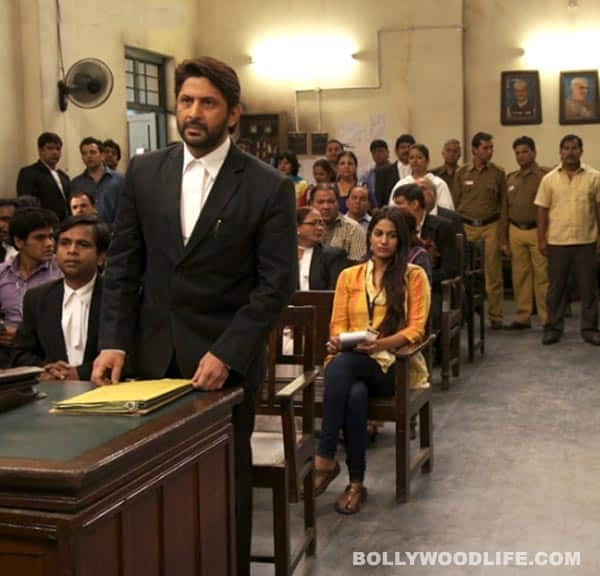 Finally we get a courtroom peek that won't make lawyers – real ones – look away in despair
For all those who are expecting a courtroom drama like that in Damini, where red-eyed Sunny Deol wouldn't stop asking for that elusive taareek, Jolly LLB might be a tad disappointing. Of course, there's always a next taareek (date) that the judge (Saurabh Shukla) diligently jots down, but heck, that happens in a real courtroom too. What's absent is the sheer nautanki and over-the-top dramatisation that have been loyal companions of any Indian courtroom drama…till now. So now getting a taareek isn't the end of the world, there's no Gita for the proverbial kasam (swear) and the witness box is just a square-meter of raised wooden platform minus railings. Get that!
With all these warnings in place, here's the plot – Jagdish Tyagi aka Jolly (Arshad Warsi) is an advocate from Meerut who lands in New Delhi and spells 'appeal' as 'apple' in the Public Interest Litigation (PIL) around which the story of Jolly LLB spins. The PIL demands further investigation into a case concerning advocate Rajpal's (Boman Irani) big shot client who has been accused of killing six pavement dwellers in a hit-and-run case.
The case itself is an interesting one, with Boman playing the devil's advocate and pulling every possible string to botch up the investigation process. Rings a bell, doesn't it? Warsi, on the other side of the courtroom, keeps making things difficult for the senior counsel. We smiled.
Moving on, we have an excellent judge who burps, farts, grumbles about the tea gone cold and knows how to keep lawyers like Rajpal in check. And at times you are in awe at how this rotund judge sweet-talks the intimidating lawyer into submission. Smart fella, we say.
Subhash Kapoor has made a sincere effort to present a real courtroom to viewers. One with a flickering tubelight and a whirring fan that Rajpal thinks should be replaced with an air conditioner. And then there's the outside of the courtroom, where the 'chamber' of a junior lawyer comprises a rickety table, stool and a stack of files under the open sky. And yeah, an alternate profession is a must as back-up for these strugglers who stand outside courtrooms to rope in clients just like a chaiwallah entices prospective customers on the railway platforms. Now that's not very far from the harsh truth.
Into this hard-hitting satire and an interesting court case comes Sandhya aka Sandhu (Amrita Rao), who is Jolly's girlfriend. And her job is to pop up for a song-and-dance sequence that makes us impatiently twiddle our thumbs while waiting for the running around the trees to get over so that we can get on with the case. You see, the legal story does get you hooked. But Sandhu is pretty persistent at times. Remember to treat those times as loo-breaks.
And then there are loopholes. Thankfully, they're not the size of a black hole. Phew! Here's one – the intelligent and foxy Rajpal does a shoddy job at 'fixing' his manipulations. Why? Isn't he experienced enough by now to know how crucial such things are? Not very convincing, Mr Kapoor! Then there's the whole fuss surrounding the advance notice that's required before presenting a witness. Frankly, it isn't that big a deal – with the judge's permission, of course – as it's shown out to be. But we let that pass for the want of a li'l drama in this courtroom.
The individual performances – Arshad Warsi's acting skills are commendable. And finally it looks like B-town's Circuit can manage serious emotions as well as comic ones. Boman Irani plays the role of an intimidating lawyer quite convincingly. And no, his role isn't based on advocate Ram Jethmalani's personality as suggested by rumour. Amrita Rao is bearable. And we love Saurabh Shukla.
So here's a movie that we recommend you watch just to see how our reel life courtrooms are catching up with the real life ones. And trust us, you won't be disappointed.
Rating:
out of 5
Reviewed by Latika Payak
* Poor
** Average
*** Good
**** Very good
***** Excellent