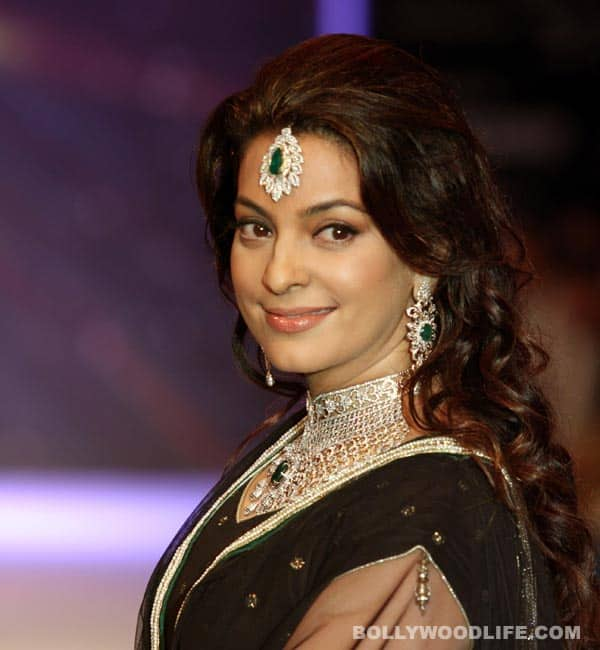 The bubbly, down-to-earth and radiant beauty floored us completely with her candid confessions and warmth. She is one heroine ready to experiment unlike her contemporaries and will be seen in completely different avatar (read:villainous) alongside her once-upon-a-time arch rival Madhuri Dixit-Nene in her soon-to-release movie Gulaab Gang
Juhi Chawla and Madhuri Dixit-Nene were pitted against each other, but that was once upon a time, now they are ready to wage a war onscreen. While their infamous rivalry in '90s was the fodder of the gossip columns things definitely have changed over the course of time, this duo now shares candid conversations and cuppa coffee on Karan Johar's popular chat show. Director Soumik Sen certainly managed to do the unimaginable, for his much-talked about film Gulaab Gang has a few 'first times'. Not only will the two pretty ladies share screen space, but the former Miss India will debut in the baddie avatar . Juhi gave us one of the most memorable interviews, which we would like to now call 'Frankly speaking with Juhi Chawla'! Here is the forever smiling babe talking about her first negative role, politics and changing equation with the dhak dhak gal…
Your first reaction when you were offered the negative role in Gulaab Gang?
Mera negative hi reaction tha (smiles). Coz it's a dark character and I have never played such a role in my career ever. Also, there is no reason for her to take revenge, wo hai hi aisi. Maine bol unko ke unhone bada mazedaar character likha hai but they didn't write it keeping me in mind. So I sent back the script. They made a few changes to the role and softened it. But when they narrated the role to me again, usme koi maza hi nahi tha. The whole film had died. So I realised the character cannot be changed. It had to be the way it was written originally.
How did you prepare for this role, since you were playing a villain for the first time?
We researched a bit on how politicians dress, how they look and their mannerisms. It was actually fun. Then I just followed Soumik (Sen) coz he had written the character.
Did you follow any particular politician while doing your research?
When it came to dressing, I did check out pictures of politicians like Sushma Swarj ji, Mamta Banerjee and Sonia ji. I looked at all these ladies and observed how they dress and their behaviour on the stage.
Personally, what do you think about politics? Is it more negative today?
I know very little about politics. But I have read anecdotes and I remember a famous person had once said that 'every time I think of joining politics my politician friend advises me to go and take a shower' (smiles). So such things do make you wonder what politics is all about.
Did you get any offer to join a political party after this role?
Haan indirectly offer aaya tha… for canvassing and also joining the party. They told me aap bas party join kar li jiye, koi mudda ya post mat li jiye. Bas come and support us.
Were you surprised on seeing the result of what you had pulled off onscreen?
I didn't believe it till I saw. When you are shooting, you don't know how the scenes have turned out. Sometimes they would even get canned. But after the film was edited, Soumik sent me a message saying 'I am so glad that you took this role up'. But you don't believe it. I thought he is just being sweet coz maine bhi risk liya hai ye role karke. However, when he showed us the film, I was like 'yeh kuch alag sur laga hai'… its different.
You and Madhuri Dixit were competing all along. Do you feel that you have done justice to your role or have you gone one notch above your co-star in this film?
Whatever was in past, I think it works for the film today. Whether it was rivalry or comparisons made between us, aaj wahi baat iss film ke liye work kar rahi hai coz you get to see me and Madhuri together. It's an interesting pair. Had it been Madhuri or any other heroine, would it have sparked the same interest? I don't think so, that's why I am happy. Even before working, I had read the script and I knew that Madhuri had got the hero's role. Madhuri is like the Amitabh Bachchan of the film. She fights, dances and does all the dialoguebaazi! But agar mere character nahi aata, toh wo maza nahi aata.
So you are the Gabbar Singh in the film….
(Smiles)…. I am the namak mirchi in the film.
Before Gulaab Gang, mostly you were seen doing supporting roles. Were you being choosey or you weren't offered good roles?
See if start doing romance; nobody will come to watch the film. So, I obviously I had to do another role which is of supporting cast. Even in Gulaab Gang, I am in the film but Madhuri has a longer role. I am the namak mirchi in the film, but you can't have it more than required.
Do you think Gulaab Gang is the right film for Madhuri and you to come together onscreen?
Yes definitely. Imagine if we were going for the same hero in a mature love story…oh god we would be singing songs and then people would be comparing us in the end. In this you won't be able to have one without another. The film would be incomplete then.
Madhuri and you were locked in a room. What did you both talk about?
I don't remember exactly what we spoke, but I think it was one of the best things that Soumik did. This happened one day before the shoot. We talked about the film and why I took up the role. I told her what I was thinking and how we could make the film interesting together.
After working with Madhuri, how much has your relationship changed with her?
Pehle toh I use to only say 'hello', 'hi' or 'sab theek hai'. I didn't know her back then but now I do know her a bit.
A role or film of Madhuri Dixit that you really like?
Hum Aapke Hain Kaun!