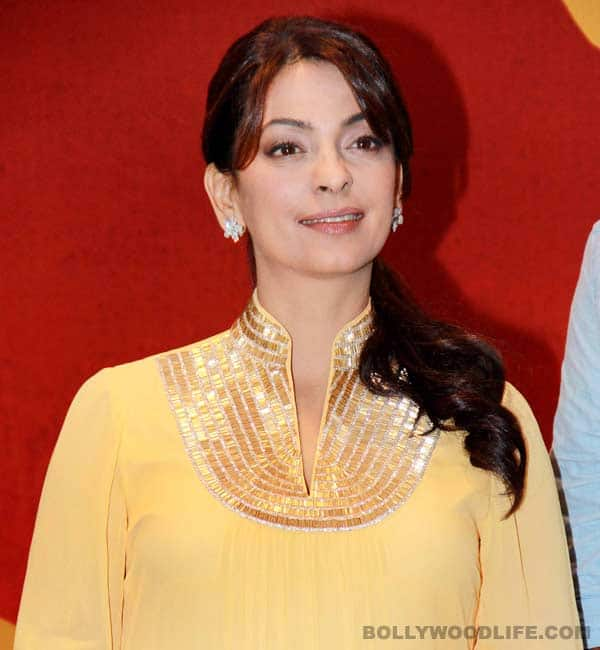 The Lok Sabha Elections 2014 saw some heated war of words between Bollywoodwallahs we had leading actors and filmmakers siding with different political parties and some who even were candidates for them. However nobody really came out and mocked a politician, not a Gandhi
Juhi Chawla is refreshing change from other Bollywood celebrities. While most leading stars in tinsel town would rather stay out of a political controversy this babe doesn't mind courting one. If you thought that the Gulaab Gang actor accepting and confirming rivalry with Madhuri Dixit-Nene was amusing you will be mighty pleased to see the this chulbuly Chawla babe take on the Congress heads. In her recent tweet the babe not only mocked Rahul Gandhi (who has always been a butt of jokes online), but also the very quiet Manmohan Singh and Congress' leading lady Sonia Gandhi.
Juhi wrote on her micro-blogging age, "Manmohan Singh to write an Autobiography Titled.. "5 Mistakes Of My Life :- 2G, 3G, Sonia G, Rahul G And Rahul ke Jija G"
The Phir Bhi Dil Hai Hindustani heroine certainly managed to entertain us with her tweet. We wonder if these were lines that the actor has written herself or has just come across. And if the co-owner of KKR (Kolkata Knight Riders) decides to find an alternate career, we have one in mind for her already. So may be Shahrukh Khan's partner who is being choosy about her Bollywood projects can continue to entertain us with her one liners.