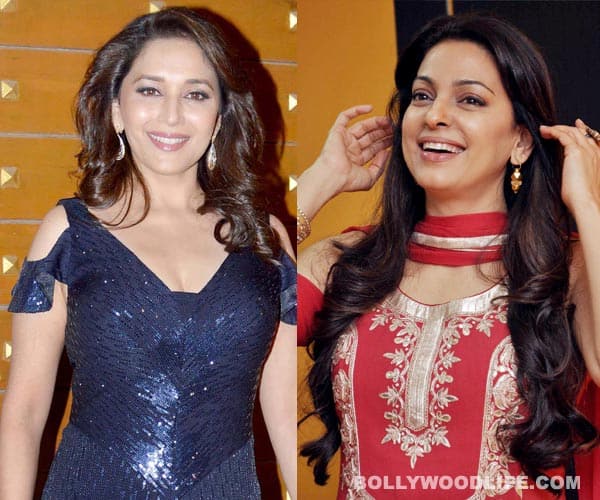 The two archrivals will share screen space for the first time ever, and the bubbly Juhi will don the hat of a villain this time around
Madhuri Dixit and Juhi Chawla's rivalry was quite well known in the industry. The two were the leading heroines of the 90s and ruled the screen with huge fan following of their own. So understandably, they never starred in a film together considering the pressure on both of them to maintain their stardom. But it was never as bitter as the catfights today's generation indulge in. And thanks to that, the two actors will now be seen starring opposite each other in Gulaab Gang.
In the upcoming movie which is based on the Bigg Boss 6 contestant Sampat Lal Devi, Juhi will play the antagonist to Madhuri's character. Speaking about the role, Juhi confirmed that although the two were rivals, they never were bitter and that she had a great time working and shooting alongside Madhuri. "I have a couple of scenes with her, which we have already shot for. It's been lovely because there was no pressure. Earlier, we were constantly compared — both of us were playing heroines to the same heroes and trying to do similar things. Now, I am the vamp and she is the heroine. It's fine, and together we will make the film rock," said Juhi who was last seen playing a supporting role in Ajay Devgn's Son of Sardaar.
Well, the current crop of actors better take notice of how the seniors, albeit in competition with each other, are more than cordial and have no issues sharing screen space!