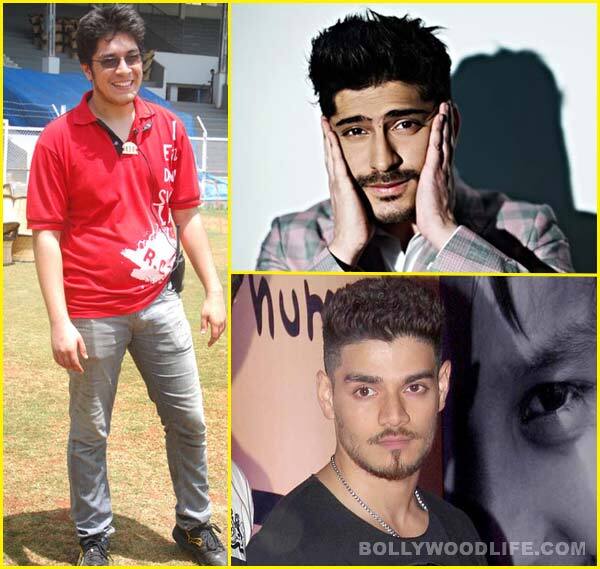 We look at some of the star kids that may choose Bollywood as their career
This year we have seen star kids like Tiger Shroff as well as those hailing from film families – Armaan Jain and Mohit Marwah making their silver screen debuts. There are several more waiting in the wings. Here's taking a look at them.
Junaid Khan: Like other star kids that include Ranbir Kapoor, Sonam Kapoor and Arjun Kapoor, the 21-year-old Junaid has stepped into filmdom as an assistant director. He is assisting Raj Kumar Hirani for PK that stars none other than his father Aamir Khan. Junaid is said to have visited the sets of his father's films earlier too, observing all the happenings behind-the-scenes. So far, the superstar's son hasn't evinced any interest in acting, but the way his predecessors moved from behind the camera to be in front of it, we won't be surprised if Junaid follows suit!
Aryan Khan: Sixteen-year-old Aryan has already proved himself to be a ladies' man posting pictures of him kissed on the cheeks by two girls a la Justin Beiber. Being the son of Shah Rukh, the king of romance, it's not surprising that Aryan has oodles of charm to impress the girls. Now, all he has to do is translate that onto the big screen, the way his father has been doing for years! That, however, may take a while, as Aryan is currently based in London to pursue his studies.
Jhanvi Kapoor: Sridevi firmly believes in the adage 'not without my daughter'. The diva may have been media shy in her hey days, but she is making sure that her daughter Jhanvi stays in the limelight. Since the actress made her comeback two years ago with English Vinglish, the 16-year-old Jhanvi has been a constant fixture with her mother at screenings, premieres and parties. Her well-turned out public appearances are just whetting people's curiosity about when she will make her big screen debut. It's a matter of time but will Bollywood lure her or will it be a Southern sojourn?
Sara Ali Khan: Saif Ali Khan and Amrita Singh's daughter is a beauty, no doubt. Even as a kid she was adorable. Having made appearances at all the events with her famous dad, she seems to be a pro under the media glare. Now at 16, Sara has grown into a stylish, glamourous teenager. It's a matter of time before she lights up the screen. Offers are already pouring in.
Athiya Shetty: Tall and attractive, the 21-year-old Athiya is all set to make her film debut with the '80s hit film remake Hero. And, she has none other than Salman Khan backing her. He is producing the film after all. Talking about her, her proud father Suniel Shetty had in an earlier interview said, "Athiya is a natural. She is extremely confident in front of the camera. Her first day of shoot (at the Gateway of India) was easy-breezy for her." Not surprising, considering her filmi credentials.
Sooraj Pancholi: This youngster with rugged looks may be entangled in a controversial suicide case, but nothing can stop Aditya Pancholi's son from fulfilling his dream of becoming a hero. The 24-year old Sooraj is being launched by Salman Khan in his home production, Hero. It's a known fact that once Salman takes someone under his wings, their future is assured. Over to Sooraj!
Narmada Ahuja: This pretty young lady has been on the threshold of cinema for a while. Speculation about her making a film debut, have been making the rounds for a couple of years now, but somehow it hasn't materialised. However, Govinda's 24-year-old daughter seems to have finally found the film she wants to debut with. She is reported to being launched opposite Punjabi superstar Gippy Grewal in filmmaker Smeep Kang's forthcoming Hindi film. With a talented actor like Govinda as her father, Narmada can't go wrong, can she? We can't wait to see, hope it won't be a long wait, though!
Harshavardhan Kapoor: After his sister Sonam Kapoor made a success of her film career, it's his turn to be under the spotlight. Anil Kapoor's strapping 21-year-old son Harshvardhan is readying to make his debut with Rakyesh Om Prakash Mehra's love story Mirza Sahib. Before that, however, he has to finish with assisting Anurag Kashyap on Bombay Velvet. Yes, another star kid turning actor after starting out as an assistant. It may sound filmi but it seems to be the formula for success in tinsel town.
Karan Deol: Blessed with good looks like his father Sunny Deol, Karan, who is 24, has been on the filmi radar for quite some time. Initially, there was talk of him being launched by Yash Raj Films, speculation was rife that he will make his debut in Imtiaz Ali film or Anil Sharma's next, but all that was put to rest when Sunny announced that he is looking for the right subject as a launch pad for his son. Currently, Karan is training to be an actor. With Dharmendra as his grandfather, and acting in his genes, Karan should make a good hero, only time will tell.
Rajvir Deol: Karan's younger brother, the 20-year old Rajvir so far hasn't shown any interest in acting, but it wouldn't be a surprise if he follows in his father's footsteps or even goes behind the camera as a writer-director.