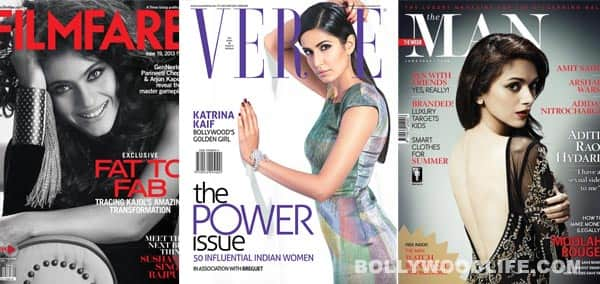 We laid our hands on the June issues of some of the most popular glossies and ended up spotting some hot, temperature-raising Bollywood babes on the covers
Everyone has been talking about Kajol's transformation for quite some time now and Filmfare has cashed in on that completely. Her appearance at every event, her classy statements…she has in a really short time become every style lovers' favourite topic to ramble on and on about. While she's creating waves with her revamped sense of fashion, Gangs of Wasseypur babe Richa Chadda is climbing the fashion rungs with great ferocity. She appears on the cover on FHM, talks about nudist beaches and perches herself on the couch in sexy floral bikini briefs.
Let's see who looks how…and do some style dissecting!
Kajol on Filmfare: After spreading her classy charm in Harper's Bazaar in a Cavalli, the Bong bombshell made an appearance on this film glossy. Love the Suhani Pittie cuff and those raven kohl-rimmed eyes. The black and white effect, the wavy tresses, the million dollar smile…Kajol totally hits the right spot.
Katrina Kaif on Verve: Kat appears in a greenish Rajesh Pratap Singh on the fashion glossy. Wethinks the outfit only procures a single comment from us –'sweet and simple', nothing beyond that. The adventure and the spice are missing, which is usually the case when Kat poses. Maybe some emotion on her pretty face would have helped.
Aditi Rao Hydari on The Man: Aditi goes backless in a diamante studded dress. Very femme fatale-ish, Ms Hydari's oxblood lipstick and Goth black nailpolish goes amazingly well with her quote on the cover: 'There's a sexual side to me'.
Richa Chadda on FHM: Richa Chadda is going wild in a subtle way on FHM – and that is something we don't approve of. She should have either played it safe or gone completely ballistic, rather than hanging in between. What she could have had done is wear a transparent plain white shirt over her sexy bikini rather than that sequin embellished top which ruins the sultry summery look.
Shazahn Padamsee on Maxim: The best cover so far. There's a sense of pathos in her expression. Her bod is in perfect shape, and the boypants are spot on; a spaghetti strap dropping to give a generous view of her bra – it all looks very aesthetic. We totally likes!