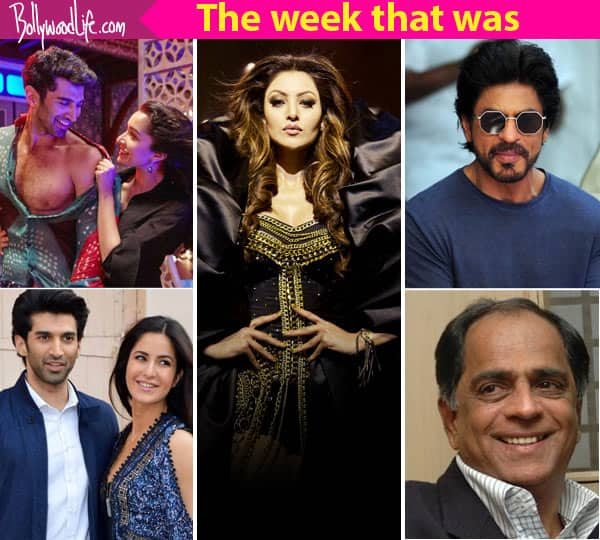 This week was pretty calm in comparison to the previous weeks as far as Bollywood is concerned. But there were still these newsmakers that created a lot of noise this week. Be it the recreated version of chartbuster Saara Zamaana from Amitabh Bachchan starrer Yaarana or Pahlaj Nihalani's double standards while certifying Ranveer Singh's Befikre to Shah Rukh Khan joining hands with Netflix. So without wasting much time, quickly take a look at the top five newsmakers of the week…
# Shah Rukh Khan joins hands with Netflix
Shah Rukh Khan became the first Indian actor to join hands with world's leading internet TV network, Netflix. With this, it was announced that new films starring Shah Rukh Khan will be exclusively available to more than 86 million members globally. This association marks the beginning of a long-term relationship between both the companies and the first of its kind with any Indian film production company. The agreement will also give Netflix members in India and around the world exclusive subscription video-on-demand access to dozens of RCE films as well as new films that will hit Indian theaters within the next three years.
# The Humma Song – OK Jaanu
The recreated version of AR Rahman 1995 chartbuster Hamma Hamma was released and recieved mixed reactions from fans. While a few were in awe of the song, most were losing their mind over the song and preferred the original version. BollywoodLife in its review stated, "The choreography of the song is such an added tease that hitting the dance floor in inevitable, there are moments where you'll just want to sit and stare at Adi's sexiness". Check out the song here.
# Haseeno Ka Deewana Song – Kaabil
Rajesh Roshan recreated his own chartbuster of 80s and how. Just in few days of its release that song has become the party anthem. And is trending at top on YouTube. BollywoodLife in its review stated, "Sung by Payal Dev and Raftaar, the song is simply fantastic. We bet you won't be able to stop yourself from tapping your foot. It's groovy, classy and extremely rich looking. The mix is also pretty funky which will immediately make it a hit with the youth."
# Aditya Roy Kapur partied with Katrina Kaif ignored Ranbir Kapoor's party
While Ranbir Kapoor threw an intimate housewarming party, his best friend Aditya Roy Kapur decided to hang out with Ranbir's ex Katrina Kaif. Although time and again Aditya Roy Kapur and Katrina Kaif have rubbished their link up rumours by hiding behind the just friends tag but if the latest pictures are anything to go by, then we're really getting suspicious of this relationship now. There could be two possibilities – either Ranbir didn't invite Aditya coz the latter is more closer to Katrina these days or Aditya deliberately skipped the bash to spend time with Katrina.
# Pahlaj Nihalani's double standards
Pahlaj Nihalani once again faced the ire of social media when he let go off butt flash scene in Befikre but chopped out gay kisses in the film. The film recieved U/A certificate. When asked about the same he said, "We shortened Ranveer Singh's butt shot quite a lot. Right now it's just a glimpse, no more. What's wrong with it? He is alone with his girlfriend in a room. They are doing what couples do when they are alone. Why is a butt shot objectionable? We've allowed butt shots in some recent Hollywood films. Also in Madhur Bhandarkar's Jail." He further added, "See, unlike Ae Dil Hai Mushkil , Spectre or Tamasha where the kisses were done in lengthy shots, in Befikre the kisses are scattered and largely fleeting and all over the place. They are part of the narration. As a filmmaker, I know what can be cut without hampering the flow of the narrative. In Befikre there is no way we could cut the kisses without interrupting the flow of the story. Aditya Chopra has treated the kisses as part of the story. If we removed the kisses we'd be hampering the storytelling." Earlier he had said, "No cuts are made on the basis of the gender of the people involved. We evaluate films with homosexual content by the same yardstick as films about heterosexual content."