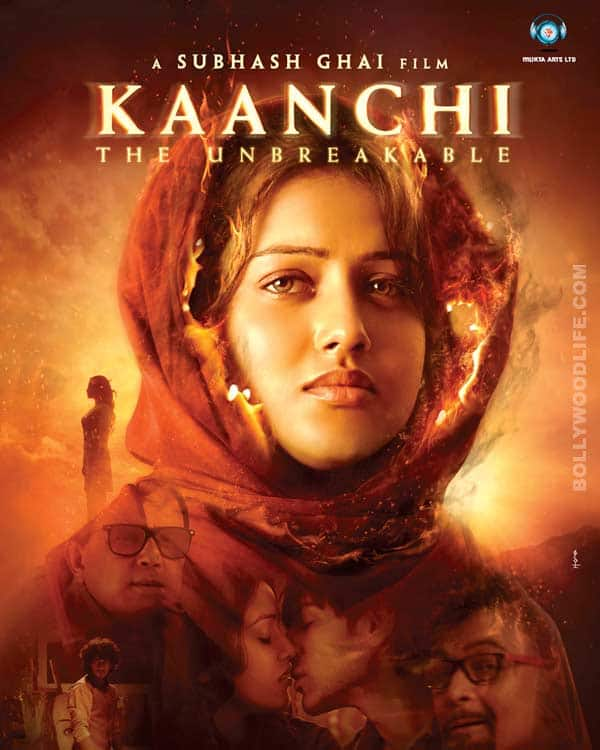 The first poster of Subhash Ghai's much-talked about film Kaanchi is out and though the leading lady of the film looks beautiful, the poster reminded us of a Hollywood flick. Read on to know which one…
After five years director Subhash Ghai is back with his new film Kaanchi: The Unbreakable. His last outing was Yuvvraaj with Salman Khan but the film failed at the box office miserably. This time the Showman is introducing a new face in Bollywood with his film Kaanchi. After discovering the dhak dhak gal Madhuri Dixit-Nene, Manisha Koirala and Mahima Chaudhary, his newest find is Mishti. And its easy to figure out why this newbie caught the filmmaker's attention. She looks gorgeous in the first poster, hai na? In the poster, you also get to see Rishi Kapoor and Mithun Chakraborty but it's Mishti who grabs your attention. But its the fiery effect which is a bit disappointing coz its very much similar to the Hollywood flick The Hunger Games poster. Another rip off, eh? While Ghai's heroine does look promising, the poster would have been better without the fire element. We had enough of that in Dhoom:3 posters as well, no?
Overall, we found the first look of Subhash Ghai's new film just about okay. We certainly hope after so much hype around the film there is something good in store for us. For now, Bollywoodlifers you tell us what you think about Kaanchi's poster.