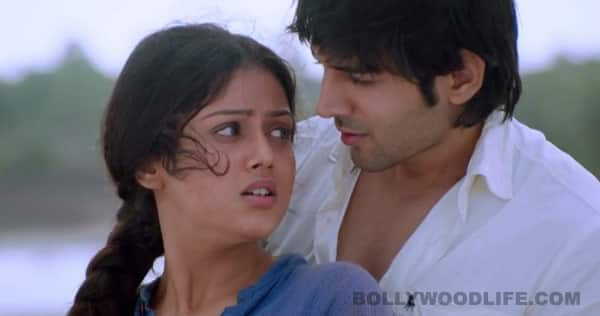 Mishti Mukherji's grand debut in a Mukta Arts film finally arrives at the theatres!
As I walked into the theatre for the first day first show I was full of hope. I had put Subhash Ghai's disasters Kisna and Yuvvraj behind me to watch Kaanchi, free from preconceived notions. The sight of Ratanlal Bagula (Chandan Roy Sanyal) right in the beginning of the film was reassuring. He is being grilled at a CBI investigation and as he sits with a pensive yet calm look Arun Roy (Adil Hussain) walks in to interrogate him about the girl who shook the system, the girl who was his friend and ally. And so, Bagula begins narrating the tale of Kaanchi – The Unbreakable.
Kaanchi, the veiled beauty, is seen cycling on the serpentine roads in the scenic valley of Kochampa. She is beautiful and brash and whoever upsets her gets a generous helping of thappads with a side serving of gaalis. Kaanchi marches around the village wearing her late daddy's tactical belt. This darling of her village doesn't mince her words and her tactless nature worries her widowed mother. But all is forgiven because Kaanchi has her heart in the right place. She even has a lover, Binda who has been to the bada sheher.
The film has a malevolent corporate giant Kakdaa and Group, is sitting in ambush to convert Koshampa into a luxurious township. Jhumar Kakdaa (Rishi Kapoor), the sleaze-ball builder who strums on a guitar while skimpily-clad women eat chocolates around him (talk about weird fetishes) has the support of his elder brother Neta Kakdaa (whose name I just cannot place) played by Mithun Chakraborty. Neta Kakdaa is manipulative and like an orange his politics is different from what it looks like on the outside (don't blame me for that senseless metaphor, I picked it from the film.) The villagers hope for salvation at the hands of Binda, the Army wala bachcha whose motto is to – a) fear nothing, b) do what is right and c) fight for what is right (Stick up your first three fingers as you go along)
Neta Kakdaa has an artist son, Sushant (actor's name not found), who is not like his father or his uncle. He is a self-proclaimed 'simple nature lover'. He bumps into Kaanchi, asks her to help him get to Sunset Point and offers to pay her a thousand bucks everyday for showing him similarly gorgeous spots (random, much?) The two continue meeting and Sushant falls for Kaanchi's saadgi. His shady uncle offers to get her abducted for his nephew but Sushant lets better sense prevail. One day at a certain scenic location by the lake, Sushant steals a kiss thus provoking Kaanchi's wrath *thunder*.
A jilted Sushant who has started obsessing over Kaanchi transforms into a total bad guy and he turns Kaanchi's world upside down. Kaanchi is determined to fight Sushant and also corruption on the side (cant get into details, spoilers!) and the rest of the narrative is how Kaanchi shakes the system.
Performances:
Mishti Mukherjee as Kaanchi is soothing on the eye, her gorgeous Bong eyes and rose-bud lips can steal your heart. But that's about it. Her acting skills are dormant and she needs to hone the same, big time! Kartik Aaryan as Binda shows great potential, and he manages to leave an impact even with the precious amount of screen time the script allows him. Chandan Roy Sanyal as Ratanlal Bagula is outstanding! This beparvaah mushtanda brings commendable energy on the screen. The two veterans Rishi Kapoor and Mithun Chakraborty have delivered fantastic performances; effortless and poignant as always. Aadil Hussain as the CBI investigator Arun Roy delivers a decent performance. The rest of the supporting cast has tried to work their best in the limited scope the plot provided.
Plot:
Instead of asking – 'What was Subhash Ghai thinking?'; I'm gonna ask why was Subhash Ghai thinking so much. The plot is convoluted and runs haphazardly. Kaanchi's struggle is for revenge and not so much for a social change so trying to tap the patriotic sensibilities of its potential viewers during the promos was just misleading. And the pedantic social message given at the end by Aadil Hussain slots this film in the "For the dummies" category. Subtlety was dragged into a dark corner and pummeled to death. I was expecting a Taal and I got another Yuvraaj. Subhash Ghai needs to alter his style of filmmaking for the new generation of viewers. The oversimplified melodramatic acting or plot just wont impress us anymore. Like making Mishti shriek her lungs out to tell the audience that she is angry was just not needed, I mean we got it, you know? So stop making cinema for the dummies and for heaven-sake, hire a better stunt choreographer for your coming films!
Verdict:
If you are a fan of the Subhash Ghai kind of films, don't go for this one; Ghai invalidates himself in this one. Although you can catch this one for some good performances by the supporting cast. Lastly if you just like to leer at pretty leading ladies go ahead and watch this but be prepared to LOL and ask the question "Why Ghai, why?" in disbelief more than once while the film is running.
Rating:
out of 5
Reviewed by Srishti Dixit
* Poor
** Average
*** Good
**** Very good
***** Excellent