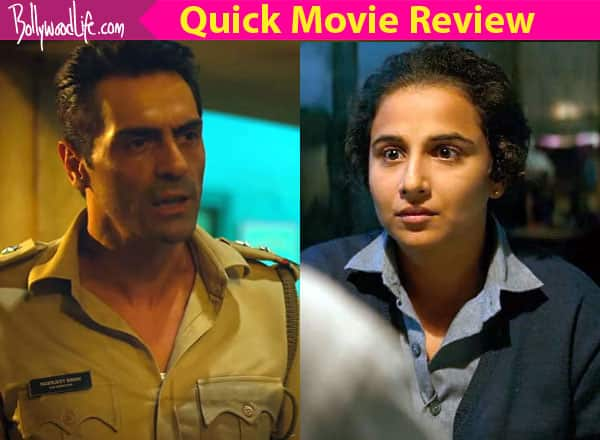 Another sequel hits the town in the form of Kahaani 2, the spiritual successor to the cult hit Kahaani, starring Vidya Balan. Both Vidya and director Sujoy Ghosh return for the sequel, however they bring in new characters and a new plot for the sequel. This time it is not about Vidya Bagchi, but it is rather about Vidya Sinha/Durga Rani Singh. Arjun Rampal is the one who plays the befuddled cop this time, trying to unveil the mysteries surrounding Vidya's character.
Gaurang Chauhan is in the theatre watching and reviewing Kahaani 2, and here's what he has to say about the first half of Kahaani 2.
"After the twisted finale of Kahaani back in 2012, I was excited for Kahaani 2 – Durga Rani Singh and was fairly intrigued by its trailer and various promos. Joining Vidya Balan this time is Arjun Rampal. The film starts off with the story of Vidya Sinha who is living a normal middle class life with her paralysed daughter Mini Sinha. Everything is going normal until one day Mini is kidnapped and Vidya meets with an accident, subsequently. Arjun Rampal plays the sub inspector Inderjeet Singh who is handling the case. He recognises Vidya Sinha as Durga Rani Singh. But all the IDs and people say the otherwise. He searches her house and finds a diary. That diary, written by Vidya herself clears the air. Arjun is intrigued by the revelation from the diary and soon receives a wanted poster for Durga Rani Singh. For some reason he doesn't reveal the details of accident victim Vidya Sinha being Durga Rani Singh to his seniors. The diary has several revelations about Vidya's past as Durga Rani Singh and her connection to Arjun Rampal's Inderjeet Singh.
So far the movie is intriguing enough but pacing is a bit slow here. Vidya Balan's performance is top notch as usual but it's Arjun Rampal's realistic portrayal of a cop that hooked me. So far so good. Let's wait for the second half."
Watch this space for the complete review of Kahaani 2…