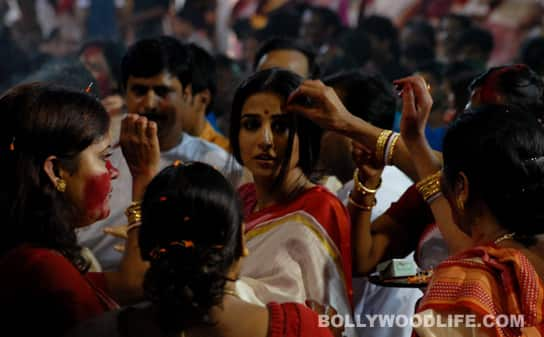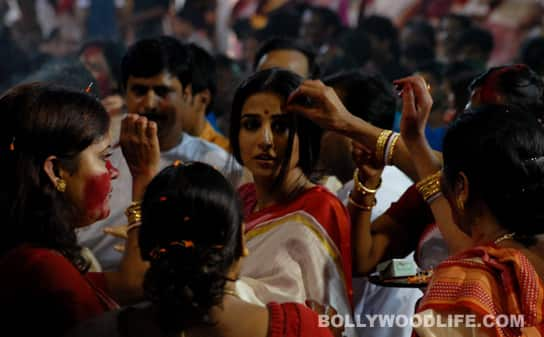 Click for videos, pictures, news, gossip and interviews related to the Vidya Balan film
THE STORY
Vidya Bagchi arrives in Kolkata from London to find her missing husband. Seven months pregnant and alone in a festive city, she begins a relentless search for her partner. With nothing to rely on except fragments from her memories about him, all clues seem to reach a dead end when everyone tries to convince Vidya that her husband does not exist. She slowly realises that nothing is what it seems. In a city soaked in lies, Vidya is determined to unravel the truth about her husband – for herself and her unborn child even at the cost her life!
REVIEWS:
KAHAANI quick movie review: It's a fast-paced, edgy thriller
KAHAANI music review: A rocking soundtrack with a Bengali flavour
VIDEOS
KAHAANI new song: Aami shotti bolchi
KAHAANI, TEZZ, JODI BREAKERS: trailers
KAHAANI trailer: Vidya Balan packs a punch

PICTURES
Vidya Balan goes topless… once again!
Vidya Balan: This is a golden time for Hindi film heroines
Vidya Balan launches Gulzar's album 'Tera Bayaan Ghalib'
Vidya Balan promotes 'Kahaani' at Radio Mirchi
Vidya Balan at the first look event of her new film 'Kahaani'
KAHAANI poster: Vidya Balan as Goddess Durga

NEWS, GOSSIP  & INTERVIEWS
Sujoy Ghosh: Cinema is not just about entertainment
KAHAANI spoiler out, thanks to Kolkata Metro officials!
Indraneil Sengupta plays Vidya Balan's husband in 'Kahaani'
Vidya Balan: This is a golden time for Hindi film heroines
Kolkata premiere of 'Kahaani' in trouble
Kareena Kapoor unhappy with being compared to Vidya Balan
Oscar special: Will an Indian film win an Academy Award any time soon?
Vidya Balan says: Once seen Kolkata then other world is useless
Vidya Balan gets nostalgic at 'Kahaani' music launch
Vidya Balan is a versatile actor: Sujoy Ghosh
Amitabh Bachchan turns singer once again
What will rule the BO after Hrithik Roshan's 'Agneepath'?
When Vidya Balan said no to Sujoy Ghosh
Vidya Balan's promotional for 'Kahaani' flops
Is Vidya Balan's 'Kahaani' being upgraded?
Is Vidya Balan wary of being labelled a serious actor?
Vidya Balan: It was not tough to play a pregnant woman
Vidya Balan: I have no boundaries
Will Vidya Balan tie the knot next year?
Vidya Balan's much-anticipated film Kahaani is directed by Sujoy Ghosh. It releases on March 9 across India, on the occasion of the festival of Holi. The films also stars model-turned actor Indraneil Sengupta. The music of Kahaani is by Vishal-Shekhar.