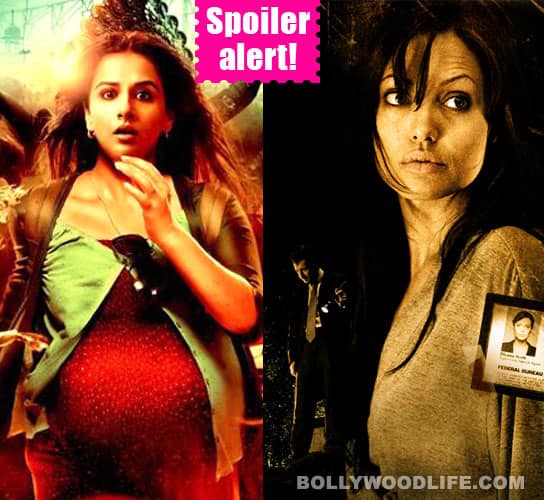 Sujoy Ghosh says he has no clue that the end of his blockbuster hit is very much like that of the Hollywood film, Taking Lives.


Warning: SPOILER ALERT!!!
Filmmaker Sujoy Ghosh's glorious feat of making a remarkable thriller has been marred by a teeny-weeny controversy. Over the weekend, several reports issued in the virtual world insisted that the climax of the Vidya Balan-starrer Kahaani is a copy of that in Angelina Jolie's Taking Lives, though none of the stories floating around say the plotlines of the two films are similar.
SPOILER ALERT!!!
Those who are still to watch Kahaani may want to discontinue reading, as we are going to reveal the surprise of the film.
In the climax scene of Taking Lives, a serial killer enters the house of a heavily pregnant woman played by Angelina Jolie. Immediately they get into an altercation and the serial killer stabs her in the belly with a pair of scissors. But she survives and stabs him back with the same pair of scissors and removes a prosthetic pregnant belly, revealing to the killer that it was a ploy to trap him. Similarly, in Kahaani, Vidya's character gets into a scuffle with the killer played by Indraneil Sengupta. They push and hit each other. Then Vidya stabs Indraneil with a hairpin. And she too takes off a prosthetic pregnant belly. It becomes obvious that the story was a trick to track him down and stop him.
Now you and I might think there is obvious similarity between the two sets of scenes, but director Ghosh doesn't. In a short interview he said, "I have heard the name of the movie, but I have neither watched this film nor the video. Ever since I started making Kahaani people spoke about so many sources that it has been copied from." We don't know if the identical climax is a mere coincidence or whether the filmmaker doesn't want to own up to an act of plagiarism, but we do know that this will fast be erased from the public's short-lived memory, just like so many other controversies.
ALSO READ: Kahaani movie review