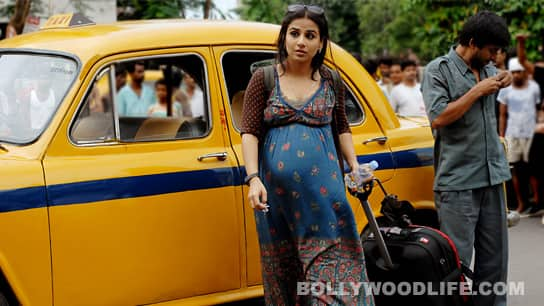 Very occasionally you watch a Bollywood thriller film that manages to outsmart you, engages you, makes you hate the interval point and then packs in a message towards the very end, that too with a sledgehammer thud… Sujoy Ghosh's Kahaani is all that and more!
Thanks to the huge success of Tigmanshu Dhulia's Paan Singh Tomar, some credit is being given not just to the actor of a film, but to its writing, an aspect that is usually ignored. Director Sujoy Ghosh's latest film Kahaani is a step in the right direction for Bollywood, as far as intelligent writing is concerned, at least. Perhaps Kahaani would have been an also-ran without the acting genius of Vidya Balan, but with her, the film is a delight to watch, because of the surprises it throws at you and by the power-packed performances by its cast in entirety.
When Kahaani begins, you are left wondering what is going on, but slowly you come to terms with the characters and whatever they are going through. From the cab driver who drives 'Bidda Bagchi' from the airport to the police station, to the child who plays the 'running hot water supplier', each has a special place and a significant one. It would be a grave mistake to assume that Kahaani is the story of a pregnant woman looking for her missing husband. It may seem like that at first and then, as you watch the film unfold, you realise that it is another story altogether.
What Dibakar Banerjee did to Delhi with his Khosla Ka Ghosla and Oye Lucky! Lucky Oye!, Sujoy Ghosh does for Kolkata. It would be appropriate to say that Kahaani is an audio-visual representation of the real city as it actually is, though running as an undercurrent, and the fact that Vidya arrives there from London searching for her lost husband becomes almost a sub-plot. The unknown bylanes, unseen people, unheard sounds, regional quirks and Kolkata, in all its festive glory, presented in a way that makes it a breathing, living, secretive character that will never reveal its answers, as hard as you may try to learn them.
Much of the credit for Kahaani's appeal belongs to the fact that all the while you, as audience, have been told that the film is about a pregnant woman trying to find her husband who has suddenly gone missing. It is not. Thanks to a powerhouse performance by Vidya, you root for her character right through the first half, feeling bad for her, wanting to be there for her, egging her on to succeed in her quest, feeling nervous for her and, at the same time, appreciating her courage. The second half of the film changes it all; from being the sob-story of a helpless pregnant woman, it turns into a beast of a thriller.
Even if you have not been to Kolkata, or know no one from the city, it comes live – and most delightfully too – in Kahaani. There are subtle and touching tributes to Satyajit Ray, RD Burman and Amitabh Bachchan, and the montages and the fashion in which Director of Photography Setu captures the city invite at least one visit, if not many more. Of course, Kahaani has its share of flaws – a trigger-happy, life insurance agent, portions in the first half when you wonder why a cop would help a random NRI woman and behave as if he were her aide or some such. The finale justifies it all, and makes you marvel at the talent of the filmmaker, Sujoy Ghosh.
Worth watching are Parambrata Chatterjee (the cop who helps Mrs Bagchi) and Nawazuddin Siddiqui (the super-cop in charge of the entire case), who take the story to a level best experienced on the big screen. Music composer-duo Vishal-Shekhar add to Kahaani with an exciting score and the Ekla chalo re song (though featured only briefly) incites a serious attack of goosebumps!
All said, watch Sujoy Ghosh's Kahaani to see facts blend into fiction, myths merge with realities and an unsung side of Bollywood that is waiting to burst into the domain of mainstream 'masala' fare. To borrow the film's tagline, Kahaani is a mother of a story and the lead protagonist is the 'baap' of all…
ALSO READ:
All you need to know about 'Kahaani'