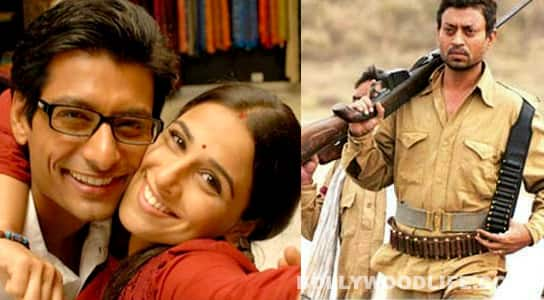 Kahaani and Paan Singh Tomar retain their magic on viewers
By now everybody knows that Sujoy Ghosh's Kahaani is a box office success and unless a strong performance emerges in the coming months Vidya Balan is a shoo in for best actress at next year's awards. In these days of instant consumption it is heartening to see a film continuing to do well in its second week. In the first week run, Kahaani netted an impressive Rs 24.1 crore in its first week. In the second weekend Kahaani continued to tell its success story and as of Monday total collections were north of Rs 38 crore. Not bad for a film made for just Rs 8 crore.
Now, having praised the collections let Cineswami take this opportunity to point out where the inspiration for the film came from. It's not just one film, but a composite of several. The Italian master Vittorio De Sica made I Girasoli (Sunflower) in 1970 about Sophia Loren who goes from Italy to Russia to search for her missing husband; Stanley Donen's Charade, later remade as The Truth About Charlie by Jonathan Demme both featured a young woman (Audrey Hepburn/Thandie Newton) in a strange city, Paris, and a charming man (Cary Grant/Matt Damon) comes to her aid; and our very own Roja where a woman who can't speak the language (Madhu), searches for her missing husband (Arvind Swamy). To Ghosh's credit he has cleverly melded these storylines and added his own killer twist. More power to him. And to those who say that the pregnant woman in action angle is inspired from Fargo, phooey to them. That tribute was in the brilliant Tamil independent film Mouna Guru.
Meanwhile, Paan Singh Tomar also continues to display strong legs at the box office. Made on a minuscule budget of Rs 4.5 crore, the film has already collected more than Rs 12 crore and climbing. The team basks in their success. Siddharth Roy Kapur, CEO, UTV Motion Pictures, said, "Paan Singh Tomar has defied all market expectations and emerged a huge box office success. Great content, superb reviews, incredible word of mouth and a perfectly targeted distribution strategy has played a significant role in the film's success. In the second week of its run, we have gone wider with a release in the Gulf and in 20 additional Tier 2 and 3 cities in India. The success of PST vindicates our long held belief that audiences today are open to new styles of storytelling and new genres of cinema, as long as they are engaged and entertained. At UTV we have consistently kept the faith in new filmmakers and new genres and are thrilled today to see this cinema achieve the sort of commercial success nobody thought possible." Wonder why they released the film with no fanfare then.
Director Tigmanshu Dhulia said, "This story was with me for more than 10 years and now to see the same materialise into a film opening to packed theatres fills me with immense pride. It is a fascinating tale and for the kind of efforts and research gone behind making this film, I am really grateful to each and every one who has made this movie a huge success. As a director, it is very encouraging to see that the audiences are ready to consume films that redefine the general norms of filmmaking."
Irrfan said, "PST was a quest and dream to redefine heroism and entertainment in Hindi cinema, and to be accepted. And the dream came true – it turned into reality. It is deeply gratifying that we could complete Paan Singh Tomar's race. It's a victory of the audience; it's a victory of the new Indian cinema."