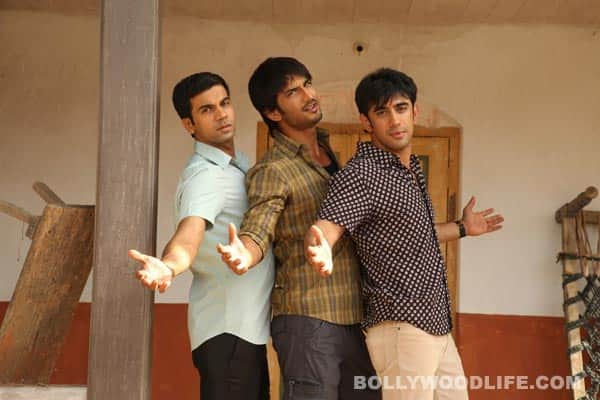 Raj Kumar Yadav is the highlight of the film, while Sushant Singh Rajput proves there's more to him than mere brawn!
It's great to see three friends getting along with each other like a house on fire, despite being so radically different. Sushant Singh Rajput (Ishan Bhatt) is the fiery one, with an illuminating ember in his belly, but impulsive and passionate to the extent that he tends to overlook the rational side of any situation. Raj Kumar Yadav (Govind Patel) is just the kind of man who will make it big in life. An intelligent, responsible and a focused guy, Govind is willing to take all the risks in business, but shudders at the thought of jumping into a lake from a height. Luckily, the lad has fabulous friends who forcefully make him taste some pure adventure. Amit Sadh (Omi) is the gullible one. He is influenced easily and takes awfully wrong decisions. Three interesting and diametric characters when combined together give rise to some amazing fun, and intermittently get entangled in a series of conflicts.
These three blokes want to make it big in life, and are bound by love for the same sport: cricket. They own a rickety li'l sports shop, and the training ground adjacent to it sparks Sushant's aim to train rare talented kids who have it in them to play ambitious tournaments. Of course, things are much easier for these young men because Amit Sadh's uncle is an influential politician. He pulls the strings, uses his clout to help them achieve some of what they want to. But everything comes at a price – this isn't social service; Uncle expects Amit to help him campaign for his party, in return.
While Sushant takes care of coaching youngsters, Yadav diligently handles the accounts and teaching the children. His friends playfully call him 'banya'. Amit keeps himself busy with the selling part, and when he's not doing that, he makes the most of his Sundays with Sushant by drinking. Sushant is driven by his passion and Yadav's ability to plan gives his dreams that much needed direction. Moving on to the next step, these lads open a sophisticated shop in a prime location in the city, Ahmedabad. Meanwhile, Sushant is sweating it out working with Ali – a Muslim lower middle-class kid with flawless hand-eye coordination, who can strike sixes at an incredibly fast pace.
The flow of the film is beautiful. It reaches its peak when the trio indulges in some pure male bonding banter. From sitting atop a moving bus to absorbing those tiny details in a porn mag – these guys share an enviable relationship. But no one has a picture-perfect life; all hell breaks loose when an earthquake hits the city. The film snowballs in a different direction after an unpleasant set of events ensues, from the natural calamity to the Godhra riots.
How these kids start again from scratch, despite the Sabarmati being clouded over in black smoke and with devastation gripping every nook and cranny is awe-inspiring. Raj Kumar impresses with his brilliant performance. And the way he blushes when his girlfriend flirts with him is adorable. Amrita Puri is seen in a short yet substantial role.
Sushant's character makes you realise that everybody has a purpose. Maybe he didn't become a world-class cricketer, but he was instrumental in Ali's success. And Amit simply teaches you to become much stronger, strong enough to not let your vulnerable side trap you into committing grave mistakes.
Critics comparing the film with happy-go-lucky flicks like Dil Chahta Hai or Zindagi Na Milegi Dobara is not at all justified. It may be about friends, but the core concept is so different. Even if you replace the Mercedes with a shaky Yamaha bike, idyllic foreign locations with a dusty maidan – the end product is still drastically different.
The movie hovers in the recesses of our collective psyche; these kind of stories tend to have an after-effect on the mind and soul. Reading about Godhra and actually seeing the pain are two different experiences altogether. Watch Kai Po Che! for the inspiration, for getting a taste of reality and more importantly, if you are waiting to see a blend of all the emotions in one film: tragedy, love, comedy and much more.
Rating:
out of 5
Reviewed by Deboshree Ghosh
* Poor
** Average
*** Good
**** Very good
***** Excellent