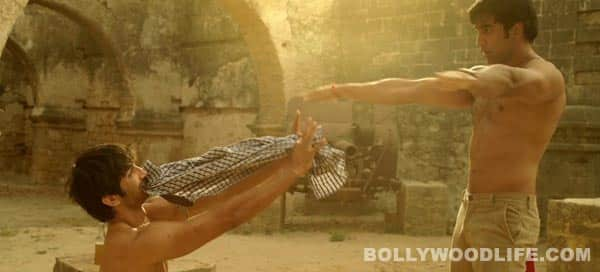 Amit Trivedi composes a heartwarming song and Abhishek Kapoor lights it up with fun visuals
Director Abhishek Kapoor's Kai Po Che starring young actors Sushant Singh Rajput, Raj Kumar Yadav and Amit Sadh, is a coming of age story of three small town friends. In this song Meethi boliyan, the trio is seen traveling through the dusty roads of India and making the most of their time together.
Music director Amit Trivedi has composed a heartwarming number and Kapoor has embellished it with some touching visuals; like when the three climb on top of a bus, dance shirtless and jump into the river. It's truly refreshing to see a couple of rather lean B-town youngsters taking their shirts off instead of those bulked up studs that we usually see!
But this video brings a feeling of déjà vu, mainly from watching similar scenes in movies like Rang De Basanti, Rock On!! and Dil Chahta Hai, except that those were urban tales.
Watch this song and tell us if it makes you hum!
[jwplayer mediaid="184240″]