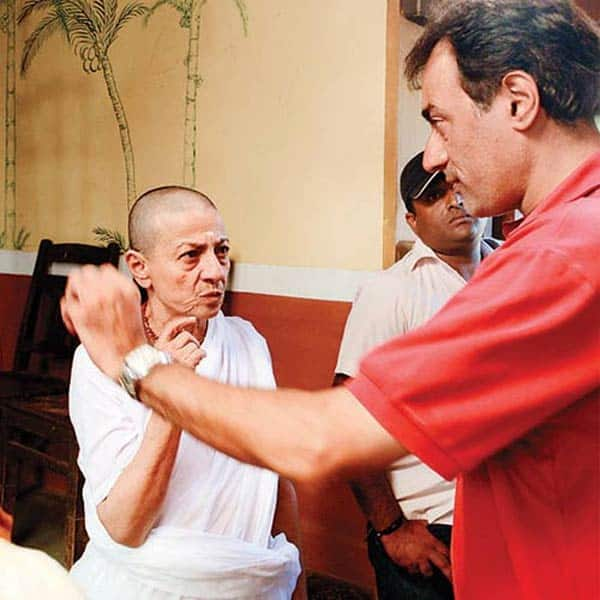 The legendary actor gears up for for her next release
Nitish Bharadwaj, best remembered as Krishna of the first televised version of Mahabharat is gearing up for the release of his debut directorial Marathi film Pitruroon. Based on a story by Sudha Murthy, it has Tanuja playing the protagonist and Sachin Khedekar in a double role. But if you think this is Tanuja's first Marathi film, you couldn't be wrong. She had done a film with Sreeram Lagoo 33 years ago, says Nitish. "She is a pukka Maharashtrian, speaks the language fluently. When I was casting for the role, the names of several eminent Marathi actor were suggested but I wanted a freshness to the character.
Most of the Marathi actors have overexposed themselves doing films, TV and plays. I wanted people to sit up and take notice and Tanuja adds star value to the film," elaborates the actor-turned director. It took just 30 seconds to get a nod from the veteran actress after narrating the screenplay. In another five minutes he had her agreeing to go bald for the character. "I told her the only hitch was that the character she was playing is a widow, and she would have to go bald. In my first film Trishagni, I had shaven my pate but for Vishnupuran when I did the Vamanavtar I used prosthetics. This takes away the freedom of performance. To my delight, Tanuja said, 'the role is so good, of course I will shave off my hair', and just like that everything fell into place," he says happily.
The story is an emotional journey of a man (Sachin) who bumps into a lookalike, and whose mother is Tanuja. Looking at that family he starts wondering if it has any link to his father. "We hold our parents in high esteem and don't want to know anything discomforting about them. Here also the son is trying to put his father in good light," says Nitish, who is paying a tribute to his parents with the film. As for making the film in Marathi, Nitish says that the story is rooted in cultural values. "Regional cinema is still about family dramas, whereas Hindi films have moved on to Singham, Chennai Express and Chennai Express," he observes.
Talking to Nitish, you can't help but ask him his views on the latest version of Mahabharat. "I have seen only a few episodes and I feel it's ornate. They have gone heavy on special effects and sets.
I don't know if people like The Hidden Dragon Crouching Tiger kind of action. Also, the actors playing the main characters like Draupadi and Arjun look too young for the roles," he says. Ask him about Krishna and he quips that he didn't like the concept of Krishna as the narrator. "Krishna himself is a part of the epic, so how will they justify it if he is the sutradhar. Krishna should be sparingly used and not overexposed because the charm will fade away," he cautions.
Picture and text: DNA