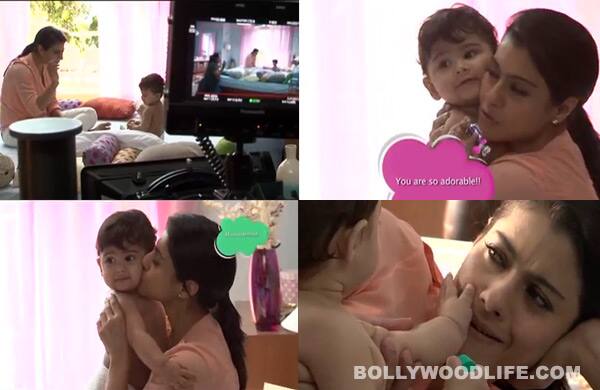 B-town's yummy mummy is seen bonding with the cute li'l baby in the latest Huggies commercial
We may not have seen Kajol on the big screen for a long time now, but thankfully we at least get a chance to see this spontaneous actor in action on television. She has been keeping herself busy with brand endorsements (and she has quite a few in her kitty). The latest is the Huggies underpants commercial, and must say this ad looks super cute!
While Kajol brings all her experience as an actor to the fore while shooting for the portion where she mimics animals – a tiger and an elephant – to entertain the baby, the toddler seems to be having the time of his life running all over the bed. The making shows how tough it is to shoot with kids as he takes regular naps and wants to get fed from time to time. But the star uses all her mummy experience and bonds with the smiley quite instantly. Watch the making and tell us if it made you go 'awww'!