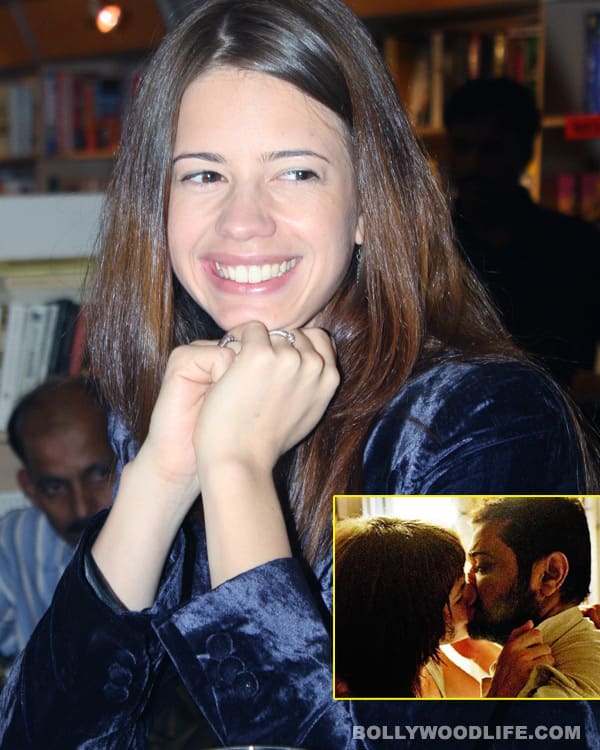 And as a result Prosenjit earned a love-bite! But do you know the real reason behind Koechlin losing control?
Kalki Koechlin and Prosenjit Chatterjee were caught in a bit of situation while filming Dibakar Banerjee's Shanghai. It so happened that the duo was asked to lock-lips albeit a li'l intensely for a scene. For Kalki, who had only done blink-and-miss kissing scenes in Shaitan and Dev D had to work hard at it. But that's not why we're talking about it.
In this particular scene Kalki plays a young girl who shares a strong sexual chemistry with Prosenjit, a social activist who is much older than her. And in a volatile moment Kalki attacks the activist with passionate fervor.
DB had instructed the duo to keep kissing till he says 'cut' and like true professionals the actors obliged. But what followed surprised everyone. Kalki and PC kissed with passion, and while at it slipped out of the frame. Dibakar, totally involved with the direction, moved on to focus on a tap without saying the oh-so-crucial 'cut'. As a result the actors went on and on. Oops! Finally Kalki got fed up and yelled out for further instructions.
Banerjee confessed that he behaved like an 'insensitive jerk' but just couldn't stop smiling about the whole episode. What's more, as a result of this intimate scene PC even earned a love bite from Kalki who got totally involved with the scene.
Phew! Now that was some hot news, no? But as we take it all in and glance at the image published in a local daily we can't help but gawk at how similar Prosenjit looks to Anurag Kashyap, who happens to be Kalki's beau. You can blame it on the lighting and the profile, if you want. But it only makes us wonder – is this similarity to be blamed for the Kalki's passionate bite? Wink, wink.