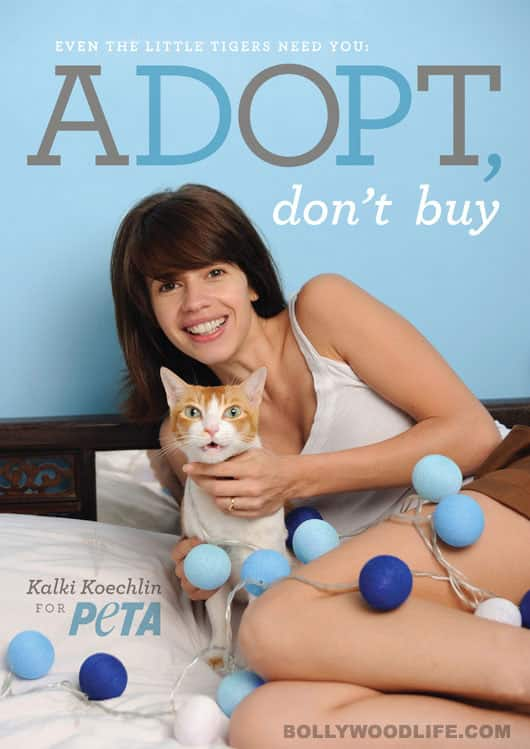 The Shanghai actor has done her good deed for the day. And she looked adorable while doing it too!
We're not new to B-town promoting the cause of animals by supporting PETA (People for the Ethical Treatment of Animals). And the latest actor joining this ever-increasing list is Kalki Koechlin!
This time around, PETA wanted to promote the idea of adopting a stray cat rather than buying a pedigreed feline from a swanky pet shop. And so Kalki, who has done exactly that, seemed to be the perfect celeb to promote a campaign that read, "Adopt, don't buy." The campaign goes on to explain the reason behind it with, "Even the Little Tigers Need You."
Sharing her views on this issue Kalki says, "With so many homeless animals suffering on the streets or waiting to be adopted in animal shelters, breeders only add to the problem by bringing yet more cats and dogs into the world. I am so happy that I adopted Dosa."
But as the grinning actor poses for the ad with Dosa, her li'l tiger, snuggled up in her arms, we couldn't help smiling at the cute picture that they made. Introducing her cat Kalki says, "Dosa is a super cat – he's cuddly, affectionate and good-looking." And he even looks a bit like you, dear Kalki. Doesn't he, readers?