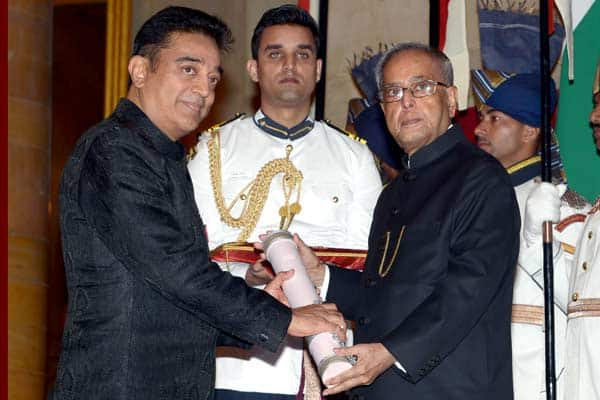 The veteran actor was recently felicitated at the Rashtrapati Bhavan
Following his Padma Shri in 1990, Kamal Haasan was back again at the Rashtrapati Bhavan in 2014 to collect his Padma Bhushan. Just a year ago, Kamal was threatening to leave India, after controversy erupted around his magnum opus Vishwaroopam. But it looks like the serene environs of the Presidential palace has soothed him somewhat.
This is what Kamal had to say about his experience: "I was once again standing amongst stalwarts. At the Rashtrapati Bhavan, since I've been there and done it once I would not be as moved as I was the first time. I was in for a surprise. I felt even more emotional this time. Age, I thought would've brought about the required pragmatism or even scepticism. After all politicians are also involved in this selection process but I felt myself moved to tears. I fully believed in my country's intellectual bounty as I saw stalwarts of various fields rubbing shoulders with me. Champions who were individually moving the country in their respective fields, in the right direction forward, as the national anthem played I once again forgot about the corruption, horse trading, rapes and other misdemeanours of some of my fellow countrymen."
Kamal continued: "The good parts stood out, the faces of the naïve and honest people who loved this country ran like a movie montage in my mind. I was glad to see my siblings and parents face in that montage. I looked around me proud to be among champions absolutely humbled by all the talent and achievement they stood for. I once again pledged my commitment to the country and hoped I won't have to leave it in anger in future. I found myself to be positive. I am proud to be an Indian. It has all to do with Indians and nothing to do with state of Indian politics and politicians."
Sadly, it is these very politicians who have succeeded in getting Santosh Sivan's Sri Lanka set Inam pulled out of Tamil Nadu theatres. It is the Madras Café story all over again. It is a shame that Sivan's sensitive look at sensitive issues will not be seen widely seen in the state. The people who want to see it will find ways and means of seeing it of course, like the Kamal fans who hopped across the border to Karnataka or Kerala to watch Vishwaroopam.