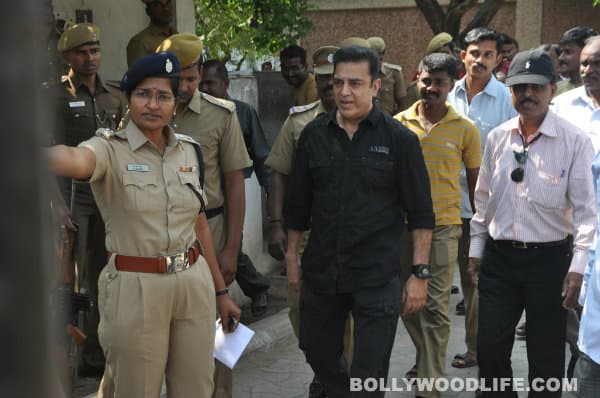 In a sudden turn of events, the release of Vishwaroopam, which was scheduled for January 11, has been put off. The film's DTH premiere on January 10 has also been cancelled
According to sources, Kamal Haasan, who is also the director and producer of the movie, has bowed to pressure from theatre owners, who are opposed to his idea of airing the movie on DTH platform before its theatrical release."Theatre owners have assured maximum number of screens for Vishwaroopam if Kamal drops his DTH premier plans. Talks are still going on and a final decision is yet to be arrived at. But what seems certain is that Vishwaroopam is not releasing this week. DTH plans have also been cancelled," sources privy to the developments say. Meanwhile, DTH players who were taking subscriptions for Vishwaroopam premiere (Rs 1000 – Tamil version and Rs 500 – Telugu and Hindi versions) have also stopped bookings.
Tthe actor-director convened a media meet in Chennai today to present his version.  "It was only because of commercial reasons I decided to delay Vishwaroopam," Kamal said and added: "I want all the three versions (Tamil, Telugu and Hindi) to release on the same day. Also I want to give more time to people to subscribe for DTH premiere".
Stating that some persons issued threats to him on his decision to premier the movie on DTH platform, Kamal said, "I will not succumb to any pressure. It is my product and only I should decide on it. I am doing an honest, legitimate business and I will take legal action against all those who try to prevent me from going ahead."
Kamal however said that he would decide on premiering the movie on DTH platform on the same day of its theatrical release, as against his original plan to premier the film on DTH a day ahead of its release.  "My friends in the industry have requested me to do so. I will take a decision soon. The release date will also be decided soon," he said, expressing hope that the government and the industry would support his move. "This (DTH premiere) will result in a new business model. This will become a trend. This is not a selfish decision," he explained.