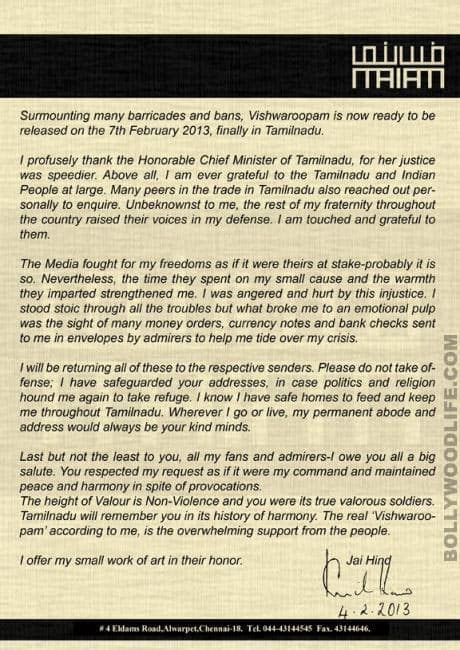 Vishwaroopam will finally release in Tamil Nadu on February 7, 2013
Now that Vishwaroopam's release on February 7 has been cleared by the Tamil Nadu government, an overwhelmed and relieved Kamal Haasan has thanked a lot of people in his official statement, which we have reproduced in the image above.
The actor has thanked TN Chief Minister J Jayalalithaa, as also the media who stood by the actor-director. He also thanked his fans and friends from the industry who supported him.
Moreover, Haasan has promised to return the money orders, currency notes and bank cheques that he received from fans and well-wishers.
Vishwaroopam was to release in Tamil and Telugu on January 25, but on January 24, the Tamil Nadu government banned it because of protests by Muslim groups. However, the film released in Hindi as Vishwaroop on February 1 in the Hindi-speaking regions of India.
ALSO READ: Kamal Haasan on Vishwaroopam ban: I've arrived at a consensus with my Muslim brothers