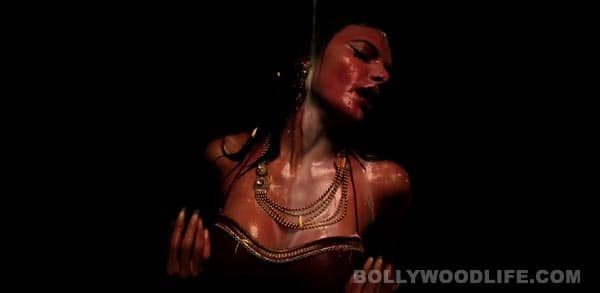 Just when we thought that Sherlyn Chopra's Kamasutra 3D is nothing but a sleek mix of big Hollywood productions such as Pirates of Caribbean, 300 and popular American television series Spartacus-minus the much-expected skin show(damn!)- the newly released trailer has reaffirmed our faith in Sherlyn's lofty promises.
Unlike the earlier promo where Sherlyn Chopra was seen licking a tree, this video presents a heavy dose of carnal pleasures and passionate kisses. The visuals impressed us with the promising looking scale of  the production, though we were not exactly seduced by what the movie promised to offer as it flinched from the tall claims made by its makers. But going by the newly released official trailer we can say the erotic drama is all set to push…err the envelope with its bold and aesthetically shot 'content'.
Clearly the steamy scenes which were sidelined in the first promo of this much-touted erotic drama, have found their rightful placement in this official trailer. Moving beyond the half-naked men and Sherlyn licking a tree branch in desperation, this video gives enough teasers that will intrigue you and stimulate your…ahem ahem grey matter.
Director Rupesh Paul has cleverly used the appreciation and warm welcome his movie received wherever he screened it. If those promising credentials are not enough to grab your eyeballs then the productions values if this tale will impress you and Sherlyn Chopra's skin show will warm the cockles of your naughty hearts.
Now all sherlyn's fans are hoping is that the director has not exhausted those interesting visuals in this promo and there's more optical feast in the movie too. Take a look at this exclusive promo and tell us your primary motive to catch this sexy looking saga-is it Sherlyn all the way?