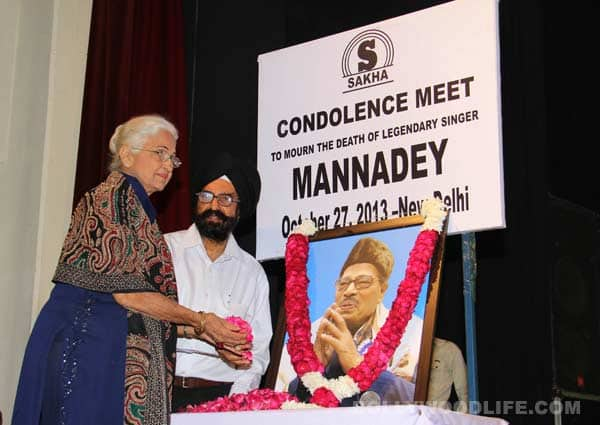 The legendary actor calls him as one of the most versatile singers, a simple person with a golden heart
Kamini Kaushal paid a tribute at a condolence meet to mourn the death of the evergreen singer Manna Dey. The function was organised by the cultural society Sakha and Pecoba at Pyare Lal Bhawan, New Delhi. Recalling her meetings with Manna Dey who was eight years elder to her, the legendary actor said that the late singer was one of the most versatile singers, but was a simple person with a golden heart. She also mentioned that Kasme vaade pyaar wafa from Upkar was one of her favourite ones.
Speaking on the occasion, Amarjit Singh Kohli, Founder Chairman Sakha and founder Gen Sect, Pecoba said that Kamini Kaushal has been in films for the last 67 years which indeed is a record.
Kaushal's first film was Chetan Anand's Neecha Nagar. The film won the Palme d' or Golden Palm Award at the Cannes Film Festival. Her last movie was the Shahrukh Khan-Deepika Padukone starrer Chennai Express. The function was followed by a program of live singing of songs from Kamini Kaushal's films.