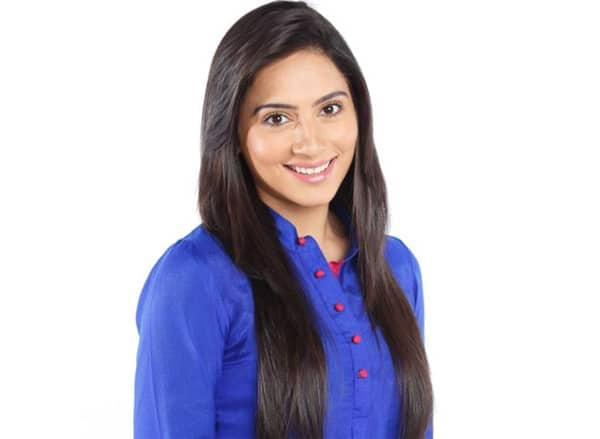 Ek Nanad Ki Khushiyon Ki Chaabi…Meri Bhabhi is the comeback vehicle of the talented actor who was last seen in Ek Ladki Anjaani Si
Kanchi Kaul talks about life post marriage to beau Shabbir Ahluwalia, her new show Meri Bhabhi and why daily soaps are better than reality shows.
You earlier did a show called Bhabhi – how different is Meri Bhabhi?
I had earlier done a show called Bhabhi on Star Plus, in which I played the bhabhi (brother's wife). Here I am playing the nanad (sister-in-law). It's a very different role, a different show altogether. The show is very progressive and a positive story with a strong character who has several layers to herself.
How similar is Kanchi to Shraddha?
We are actually very similar. I have a bhabhi in real life, so I can relate to the character I play onscreen. We share all our secrets and problems. In the show also, the family is a close-knit one and that's exactly how my family in real life is. Meri Bhabhi is a very 'today' story. Everyone can relate to it.
Does your husband Shabbir Ahluwalia give his opinion on the show?
We are both supportive of each other's career. We give opinions and positive feedback about each other's work to help each other.
Has life changed after marriage?
Not at all – it has just become better. It's like marrying your best friend!
Shabbir has got into production big time – have you seen his shows?
I have seen Savdhaan India and Savitri and we are producing the remake of Zanjeer as well. My participation in the production work is at a bare minimum. I am busy with this show and he is doing a great job with the production. Both the TV shows are phenomenal.
Are you planning to do a show with him?
We spend a lot of time with each other, so the need to work together never really came up. However, if something comes up where I fit in, I am sure we can do it together.
How is your equation with Esha Kansara from Meri Bhabhi?
Our equation is good. We hit it off right from the time we met. She's a great girl and is very hard working. We always help each other in scenes and stuff like that. After spending so much time together, you tend to become close as the show progresses. She puts in a lot of effort and I'm glad we have a great chemistry.
How was it working with Supriya Pilgaonkar and Kanwaljit Singh?
They are very senior actors. However, on the set it doesn't feel like they are seniors – they are both such wonderful human beings; they have this warmth that makes it very easy being around them. I can talk about anything with Supriyaji, right from shopping to anything, while Kukuji is like a father on and off screen.
How is your equation with Vipul Gupta – your onscreen brother?
Vipul pulls my leg a lot. We are neighbours in real life and it's a very friendly relationship with him; we have pillow fights and a lot of things like that.
Which show do you think is the biggest competition for Meri Bhabhi?
The show is unique and novel. It explores many relationships. The story of a daughter coming back home after an unsuccessful marriage, how the parents welcome her and help her move on is a different kind of story. Hence I do not think it has any competition. No other channel has such a show.
Daily soap or reality show?
Daily soap any day, 'coz fiction lasts longer, it's somewhere that your character becomes your identity. It's a lovable character, plus people relate to you. They have a longer memory of the characters you play. Reality shows are a three month thing, but in this you get to show your acting skills.
When you are not acting, what do you do?
I hang out with my husband and go scuba diving. Whenever we get a break, we head up to the mountains.
How, according to you, has TV changed?
Hours have become better, working conditions have improved. Progressive thoughts have come into shows. We have started making a bank of episodes, no last minute work. Things are pretty organised; actor's and productions house's time is respected. So I think a lot has changed.