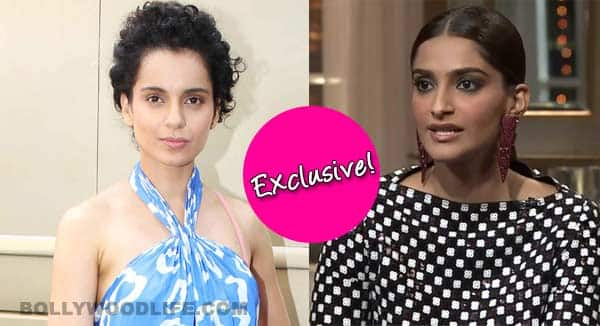 Sonam's outing on the latest season of Koffee with Karan 4 has garnered her a lot of flak
Sonam Kapoor creates quite a stir every time she appears on Karan Johar's popular chat show Koffee with Karan. Her last stint alongside her current arch-rival Deepika Padukone made Rishi Kapoor angry as she made some not so humble remarks about Ranbir Kapoor. And this time she has offended Kangana Ranaut, it seems. While Ms Ranaut was missing from the starry chat show, she certainly seems to have heard all the statements that have been made, for she expressed her dismay at Sonam's comments on good-looking actors.
Sonam sipped some steaming cups of coffee alongside her beloved father, Anil Kapoor and created a storm as she took digs at her contemporaries and made several statements that even appalled the show's host. B-town's fashionista said, "If you're not good looking, they think you are a good actor. Just because you look ordinary and you talk loud doesn't mean you're a good actor." While many in B-town might be miffed with this statement, it is only Kangana, who has reacted strongly to Ms Kapoor's not so humble words. In an exclusive interview with BollywoodLife, Ms Ranaut made her displeasure over Sonam's remarks quite evident.
Kangana said, "Sonam has said that people who act well are ugly, I have heard. So do I get the crown of the ugliest person? Because after watching Queen, people have been telling me that I act really well. So according to Sonam, I am the ugliest actor in Bollywood today. And well, I accept that with all the gratitude and humbleness."
Kangana also went on to say that it's high time that we get real people on the screen, as opposed to Sonam, who thinks that only good looking people can act well. " I feel that Sonam really needs to get her facts right about acting. Actors aren't models. It's a different technique to convey expressions and emotions and it has got nothing to do with the looks. And we should have a variety of actors just for the sake of casting. We don't have right casting in our country. It's high time we git rid of this six-pack brigade and glamorous looking people. We should get real people in because the stories we show on-screen are about real people. And that's how the movies will be genuine and heartfelt. Story telling needs to get honest."
That's not all. Kangy also held Sonam responsible for our cinema not being so genuine today. "If at all our cinema is not good today, people like Sonam should be held responsible. There are people out there, who might not fit into that Vogue kind of space, but they have all the right to be an actor," she added.
Well looks like Kangana is still in her Revolver Rani avatar, only this time she's firing from her mouth!