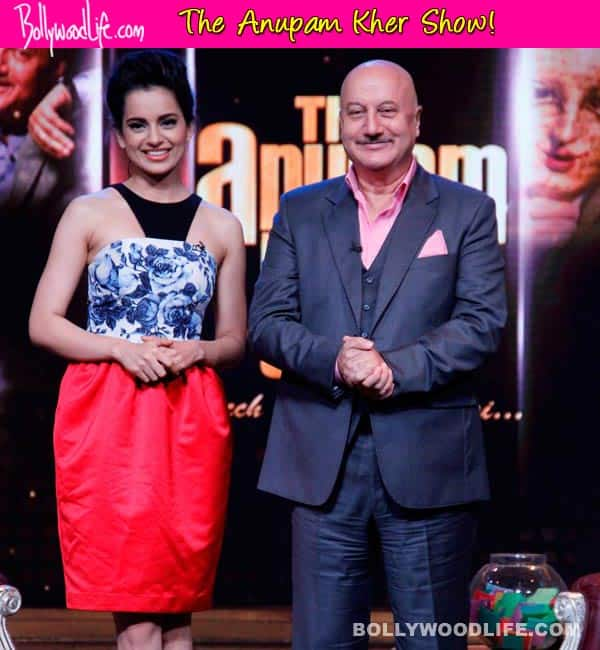 The special guest on the Anupam Kher show this week is the Queen actor
The first episode of The Anupam Kher show had Shah Rukh Khan followed by Mahesh Bhatt and his new protégé Alia Bhatt. In the third week of the talk show, Anupam has invited Kangana Ranaut – the deliverer of several hits like Queen, Fashion, Gangster and the list goes on.
Now we all know that the questions on Anupam Kher's show are nothing out of the ordinary. They are all personal and extremely intimate that many of us have no clue about. In the first two episodes, Anupam had some personal connection with the stars he's interviewed. He has played Shah Rukh Khan's father in several movies and has worked in Mahesh Bhatt's Saraansh and Daddy. So he usually always narrates his own experience with the actor and a few anecdotes that the world doesn't know of. Kangana and Anupam shared screen space in Excel Entertainment's Game in 2011.
In this episode, Kangana reveals what made her walk into the glamour industry. Apparently, at the age of 17, Ranaut had left home and was living as a paying guest in Chandigarh. She saw the movie Jism and was inspired by Bipasha Basu. She said, "I loved her smoky eyes look and the song, Jaadu hai nasha hai was brilliant. Tabhi Fashion ki hawa lag gayi. She inspired me to get into the glamour industry." She started her modeling career and after one year Kangana came to Mumbai to fulfill her dreams. And has never looked back ever since.
Watch this special episode where Kangana bears her soul out on The Anupam Kher show.