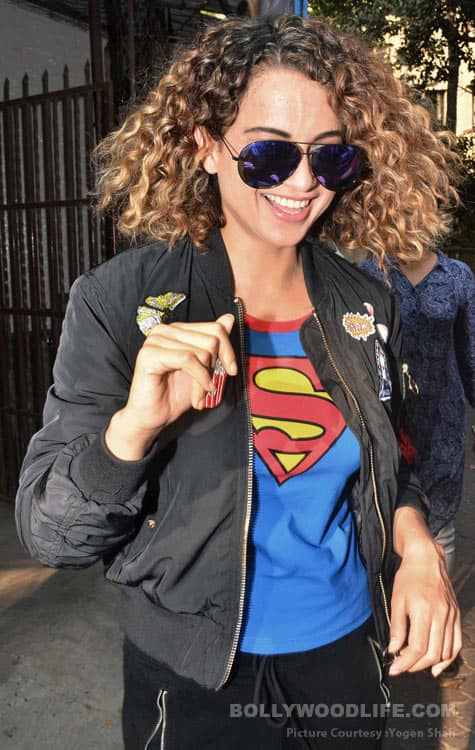 Kangana Ranaut has been missing in action since a while. But not anymore.. We spotted our favourite Kangy a while ago heading out from Shankar Ehsan Loy's studio in Mumbai. Wondering what she was doing there? Kangana, who is next going to be seen in Rangoon was there to do the dubbing of the trailer. The film was suppose to release in October this year but not even the trailer of it has come out as yet. The film has been pushed to 2017 and the filmmakers are now planning to release the trailer of Rangoon. Kangana was seen sporting a cool blue superman t-shirt with a jacket paired with black pants. Oh and look at those uber cool shades..
The actress knows to dress and impress. She's got the style sense of when to wear which outfit and that's why she never fails to woo us with what she wears. If there is someone from Bollywood who can given Ranveer Singh a tough competition when it comes to quirkiness, it has to be Kangy. Why we say so? Look at her jacket closely. It's got popcorn and some other little prints over it and that's pretty quirky. However, this isn't the first time when Kangana has made an otherwise casual outfit look stylish. C'mon we have all seen how Kangana can get all experimental with her looks and clothes. In fact we'd love to see Ranveer and Kangana twining it some day. Sounds cool, no?
Vishal Bhardwaj's period drama Rangoon stars Kangana Ranaut, Shahid Kapoor and Saif Ali Khan in the lead roles. The film is set in the backdrop of World War II. As per reports, Kangana plays the role of Mary Ann Evans aka Fearless Nadia in this movie. A source close to the project reveals that, "The film is based on Bollywood's original stuntwoman also known as hunter wali." So what do Shahid and Saif play in it? Well she's romantically involved with both of them . "In the earlier part of her journey, she meets this Indian officer (Shahid) who is fighting for British army (World War II) and falls in love with him. Later when she comes to India, she meets Bollywood's director Jamshed JBH Wadia's younger brother Homi (Saif) who starts casting her in his movies thereby giving her the tag of hunterwali. Post this he falls in love with her and starts writing movies keeping her in mind. Eventually she too falls for him and later they get married. Interesting!