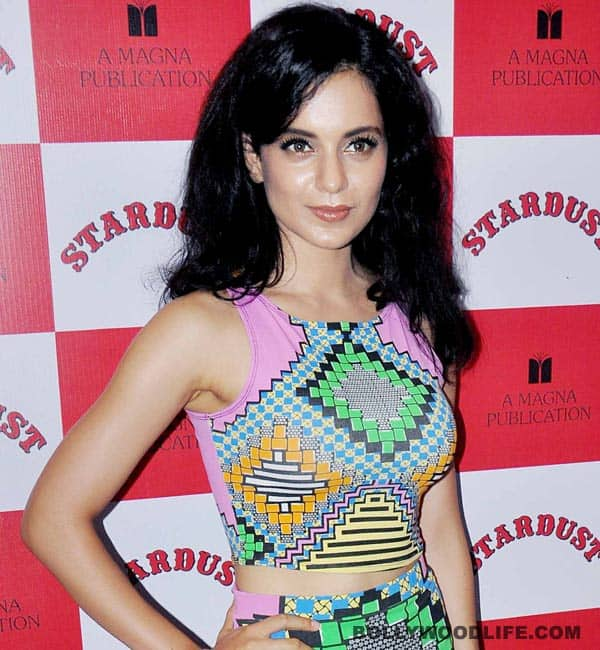 The Tanu Weds Manu actor talks about not working with the Khans, different phases in her career and more
Kangana Ranaut made her debut in 2006 with Gangster. She started off with heroes like Shiney Ahuja, Sharman Joshi, Adhayan Suman etc. But the actor soon graduated to the A-List. She did films with Hirthik Roshan (Krrish 3) and Ajay Devgn (Rascals) but for some odd reason eight years after her entry into B-Town, she has not worked with any of the Khans or for that matter Akshay Kumar or Kapoors (Shahid and Ranbir). While the other heroines, who have come into the industry much later than her — Deepika Padukone and Sonakshi Sinha — have worked with most or all of them.
The Khan factor
Do they know she is alive? Yes! She is friends with Salman Khan but though he is known to help newcomers, has never done a film with her. Aamir Khan praised her on Koffee With Karan, and she has partied with Shahrukh Khan. So how come they haven't been paired together? While trade pundits analyse, Kangana, who has another author-backed movie Queen which released last Friday (March 7), is unperturbed. Sure Kangs is aware that she is yet to work with the big three of the industry. "Initially in my career, I was very eager to work with the Khans and bigger heroes and I waited for a long time. All the big projects would be announced and they would go to certain female actors and I would get these unconventional films. But now I thank God for that. Because those films got me critical acclaim and success. Now I am addicted to doing films where I play central roles," she says.
Overshadowing the heroes
Perhaps the established heroes are wary of working with her because she chooses strong characters and plays protagonist in her films. So she has to contend working with actors who are secure enough not to worry about being 'side-lined.' Like R Madhavan in Tanu Weds Manu, Rajkumar Rao in Queen and Vir Das in her next Revolver Rani. When asked if she chooses to play only strong characters, she shrugs, "I have been through phases. I would be lying if I say that I have always been clear about what I wanted to sign. There have been times when I have done a particular movie for the glamour factor or the money that was offered. But I think now I know what I am looking for."
Main bhi hero
While Queen is about a girl's journey in another country, Kangana's next movie Revolver Rani will see her in an out-and-out action avatar. And the actor is loving acting in films where the focus is on her. She laughs, "I used to get really bored on the sets of Krissh 3 because I used to come from the sets of Queen and Revolver Rani. And Hrithik used to get so much attention, which was the exact opposite of what would happen on the sets of my other movies. And I would be like 'I want that.' When I started out, I didn't have a concrete plan to get where I am, but now that I am here, why should I go back and do hero-centric films where I have little to do?"
Vidya Balan sans Khans too!
The only other actor who has survived without any movies with the Khan trio is Vidya Balan. Like Vidya, Kangana has many acclaimed performances, a National Award and box-office successes to her credit, but is yet to be cast opposite any of the Khans.
Text courtesy: DNA