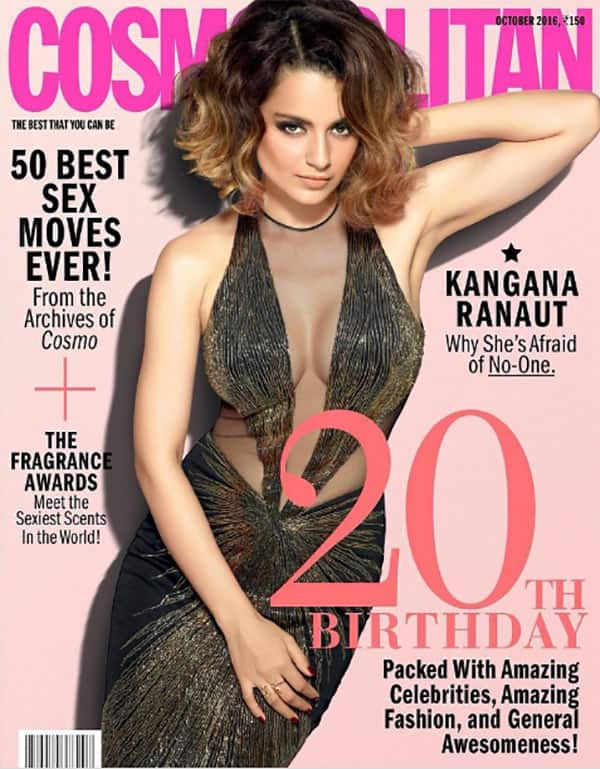 Kangana Ranaut, can you stop looking so sickeningly hot? Actually, don't for we're totally crushing on the sass with which you are taking over the internet, one pic at a time. I mean, no literally! As if Kangana's recent GQ shoot was falling short of sexiness, we just got our hands on this another mag cover which has Ms Ranaut looking fierce AF. One look at this above picture and you will know what we're trying to say. Sporting a combination of sheer and glitter on that drop dead sexy gown, there's nothing that'll put you off Kangana's this outfit. Her curves look so beautifully enhanced and of course, her looks to kill attitude is such a slayer that you would be forced to drop down on your knees and let her take charge. Now such is the impact this cover is having on us right now. No wonder the caption going with this picture of Kangana too reads, "Why she's afraid of no one." Indeed, if this doesn't get your hearts racing then I dunno what will.. Also read: Kangana Ranaut will make you fall in love with the Renaissance era, courtesy this photoshoot – watch video
This reminds us how Kangana in her recent interview with GQ had even said, "I have to make a confession, my hotness is so underrated. Nobody talks about my abs, not that I have any, but nobody wants to know about my diet either. So I think it is a little unfair and shameful. No matter how many lingerie shoots do I do for you all, it is always with the spirit, han?" So guess, it's time we stop everything and compliment Kangana for looking so sexy with her every next outing irrespective of whether she's at the airport, on the ramp or a freakin hot magazine cover like this one. Such a sex bomb!
Kangana Ranaut shows her feminine side in black bikini

Kangana, who is known for her powerful roles on screen, flaunts her feminine side here.

Image credit: Twitter

Kangana Rananut showing off her toned bod in white bikini

A bikini with a bow is just too hot to handle.

Image credit: Instagram

Kangana Ranaut basking in the sun wearing that bikini will make you drool

And, this is definitely the hottest thing you will see today.

Image credit: Instagram
On the work front, Kangana has wrapped up the shooting of her Vishal Bhardwaj film Rangoon which stars Saif Ali Khan and Shahid Kapoor. Kangana has also started shooting for her next project. Titled Simran, the movie is being directed by Hansal Mehta and kicked off the first shooting schedule in Atlanta on October 7.
What do you think of Kangana's latest photoshoot? Tell us in the comments below and we'll be back with more updates on this hot story, right here.