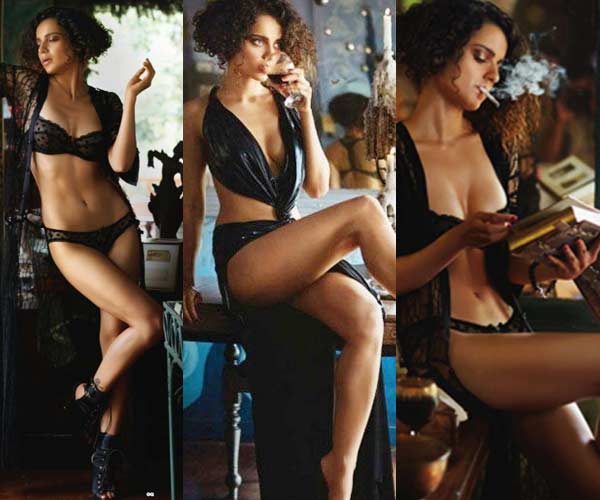 skip advertisement
She's hot and she's proved it. But with her latest photoshoot, the Queen actor has proven that she's quite a seductress too
Kangana Ranaut has posed as the covergirl for GQ magazine's May issue. And the tagline describes Kangana as the Queen of Hot. Well, we've no doubt about it! The actor is on a roll since her film Queen. Her appearances at events are always so eye-catching that Sonam Kapoor, popularly known as the fashionista of B-town could soon take fashion lessons from this curly-haired babe. And by posing for GQ, Kangs has upped her sex appeal several notches higher.
On the cover, Kangana Ranaut is seen in a corset top with a sheer-fabric tiny skirt and she has worn her curls short. Wethinks this isn't the best shot from the photoshoot. In fact, she looks way hotter in the inside shots. She looks sexy as she poses with a book in hand and a cigarette in her mouth while wearing a raunchy pair of lingerie teamed with a sheer-fabric overcoat which is only hanging over her shoulders. In the same outfit, Kangs is seen enjoying drags and giving oh-so-desirable expressions to the 'bugs. She flaunts ample amount of her bosom in a glossy rexine jacket teamed with black panties. In one shot, the curly-haired damsel is seen in stay-up stocking teamed with a corset outfit. Boy, she looks so bold and beautiful! She's also worn another racy dress in which she shows off her slender frame while drinking wine.
While this was about the shots captured, the video is equally delightful. Her attitude and confidence while walking and posing with a cigarette in her hand and wearing raunchy clothes is absolutely praise-worthy. This wild child of B-town seems to have blossomed into a sensuous seductress. You will even get to see Kangana'a striptease in the video and her outfits are just so mesmerising. While the men are gonna love this one, the women would surely like to stock Kangy's sexy outfits in the closet to add spice in their bedroom life. Wink, wink!
So BollywoodLifers, watch Kangana Ranaut's photoshoot video for GQ and view the steaming hot pictures and tell us what you think! Like it or not?
[flv image='http://st1.bollywoodlife.com/wp-content/uploads/2014/05/teaser-kangna-gq-0705142.jpg']http://st1.bollywoodlife.com/wp-content/uploads/2014/05/kangna-gq.flv[/flv]