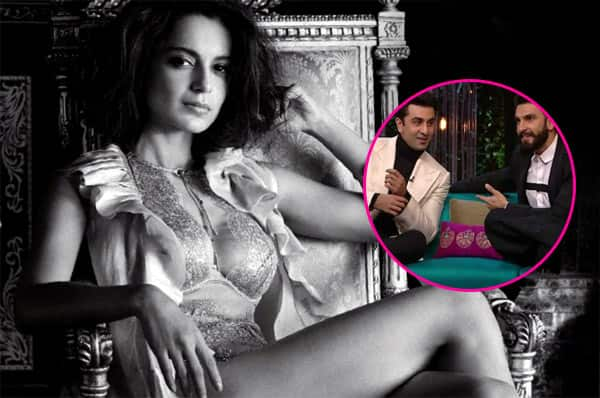 An amused Kangana Ranaut is just waiting for the right time so she can give it back to Ranveer Singh and Ranbir Kapoor! One of the most talked about episodes of Koffee With Karan has been the one with Ranbir Kapoor and Ranveer Singh. The duo, who have one thing in common (Deepika Padukone, duh!), made headlines for their jibes and disses at each other and people. Apart from involving DP as part of their banter, Singh surprised RK Jr when he mentioned Kangana Ranaut's name. On the show, Ranveer had asked Ranbir to go on a date with the Rangoon actress. His exact words were, "Ranbir Kapoor should date Kangana. There's a lot of firework. He loves it." Wow. This sly dig was not just on Kapoor but also on the actress.
But you know how she is. Kangana likes to give it back to the respective person as and when the time is right. Well, a leading tabloid got a hint of what the actress thought of the jibe and she is pretty amused. A source was quoted telling them, "She is only laughing about it, for now." Oh wow. Looks like she is planning a sassy reply to this which she will give when the time is right. Not just to Ranveer Singh and Ranbir Kapoor but to Alia Bhatt as well. You must be wondering why the petite diva? What did she do? Not just the boys but even Alia Bhatt dissed Kangs in the most subtle way, of course. On the same show, Alia had stated, "Kangana has a lot of lovely airport looks, but where does she go?" (ALSO READ: Ranveer Singh suggests Ranbir Kapoor to go on a date with Kangana Ranaut and his reaction is a total giveaway!)
Clearly, Karan Johar definitely likes to court controversies. In fact, Koffee With Karan is actually a breeding ground to all sorts of Bollywood's controversies. Anyway, Kangs has some plans to give it back to them. All we are going to do is wait and watch how and when she will do the needful. As of now, the actress has returned from US and is prepping up for her upcoming projects. Source close to the diva stated, "Kangana is gearing up for her other shoot commitments. She's more excited about her look than anything else at the moment." Maybe as she promotes the brands or starts promotions of Rangoon, Kangana might also answer back to the jibes taken on her in Koffee With Karan.
Whatever the case it, we'll be right here to tell you firsthand. So stay tuned to this space for more gossips and latest updates. Do not go anywhere!
Kangana Ranaut's this smoking hot picture will make you drool over her

Kangana flaunts her super hot body in a delicate bikini in this picture. The actress looks effortlessly Hot in this image.

Image credit: Twitter

Kangana Ranaut pulls off the two piece perfectly

Kanagana surely knows how to carry a bikini. The Queen actress pulls off the military green two piece like no other and Oh Boy she looks sizzling hot.

Image credit: Twitter

Kangana Ranaut could almost go unrecognisable in this hot picture

Kangana's this picture made it hard for us to even recognise her. The actress still looks super hot in this old picture as she unzips her shorts seductively.

Image credit: Twitter

Kangana Ranaut in the blue swimwear looks sizzling hot

Kangana surely believes in, if you have it flaunt it. The actress flaunts her toned body in this figure hugging swimwear and looks sensual as she poses for the camera.

Image credit: Twitter

Kangana Ranaut in this see through bikini will make your heads turn

Kangana surely knows how to grab attention. The actress flaunts her sensual body in a delicate bikini and leave you stunned.

Image credit: Twitter

Kangana Ranaut flaunts her best feature in this photo shoot

The actress in a green swimwear will leave you stumped. Kangana flaunts her perfectly tonned legs and we can't stop obsessing about it.

Image credit: Instagram

Kangana in a nude shade costume will leave you puzzled

Kangana in a skin toned cut out costume looks extremely hot. The dramatic hairdo for the shoot has got us hooked on this picture.

Image credit: Twitter

Kangana Ranaut snapped during hot photo shoot

Kangana Ranaut is every bit sexy and stunning during her bold photo shoot.

Kangana Ranaut poses for camera in sexy look

Kangana is too hot to handle in this picture as she poses for the camera.