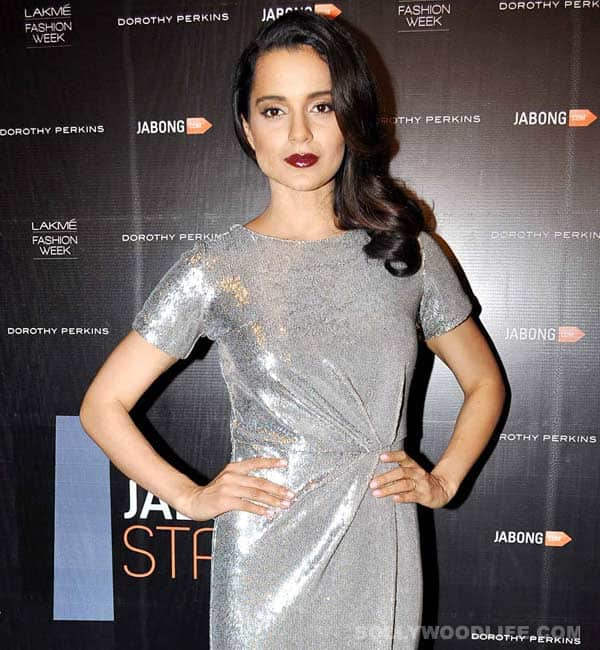 As Kangana Ranaut's Queen wins hearts and admirers, Malavika Sangghvi writes her a fan mail. Read on to know what she wants to tell her…
Dear Kangana,
I always knew I'd write you a fan letter. Ever since I watched that interview you'd given to Anupama Chopra's The Front Row some months ago, in which you sat with preternatural grace in Grecian robes, talking about the dud films you'd signed because you needed the money, how your sense of fashion was an 'overcompensation' for your small town roots, and how industry men were 'not cool'.
Here, I thought to myself, was someone completely original, unafraid to be herself, mature enough to display her vulnerability, and uninvested in keeping the star stereotype alive — and she's only 26!
So what do I want to say to you now that I, along with the rest of the movie-going public, am absolutely smitten with your performance and the film Queen?
I want to say thank you. Thank you for putting your heart and soul in to a role that ever so gently makes such a strong case for the women of my country. Thank you for showing us how a young girl who faces not only the rejection of her fiancé, but the misogyny of centuries of Indian civilization, can, with gentleness and shy humor, stand up for herself against all odds.
Thank you for showing us that even with an 'oily guth', a bulky home knit sweater and unmade up face, the beauty of a soul can never be lost.
Believe me, I sat watching Queen hoping it would never end. Your scene with the gorgeous Lisa Haydon, in which you compete on who can burp louder; your small town girl gets-drunk-and-goes-wild depiction, and your reprisal of the heartache and despair of a newly rejected bride were utterly delightful.
What is even more commendable is that you've said Queen was one of your toughest roles, because Rani was so unlike you. "She's unsure and insecure, whereas I'm not. I've always been super strong and confident of myself," you'd said.
From where on earth did you find the emotions to inhabit this person so completely? Her body language, the way she tilts her head when she's dreamily happy, the misplaced and smug outrage she displays when faced with 'unwanted attention' abroad, the 'mouse-that-roared' confidence and release she finds in a Parisian nightclub, were priceless.
As priceless as your utterances in the interviews you've given, about loving the attention that women-dominated films afford you, how you waited too long for a film with the Khans and how now that you've arrived with such a box office presence of your own — you are quite happy not to sign one with them, thank you.
So here's some unsolicited advice from someone a lot older, but not much wiser:
Now that you've had such a success with Queen, things are only going to get tougher for you.
They will try and typecast you into doing similar kinds of roles, don't let them. The press will fawn over you, pit you against every other actress (and even actor), invent lovers and enemies, where there are none, and build you up in a million different ways, only so that it can bring you down when it's had it's play — ignore it.
The audiences will love you one day, hate you the next, ignore you the third, forget you the fourth, let them — that is their way.
Forget them all, ignore them all, shut them all out.
They are bit players in your existence, dear girl. Because just as that scene in which Queen walks with a bounce in her step and a smile on her lips, after she's finally rejected the man who'd rejected her in the first place (and along with him, all the baggage of her past), remember that option is always there for you.
The outer drama is but a small detail of our lives, as you, Rani and I, well know.
It's the inner path we walk that matters; and if we can do so with a bounce in our step and a smile on our lips, no one can ever stop us from going where we want to.
Keep walking girl.
Yours with affection and sincerely etc
Malavika Sangghvi